BINGO ! Just like I said the NAZI factions who "mixed in" the ISIS except it's really [ISIL] to BLEND-IN with the NORMAL REFUGEES disguised to INFILTRATE. Just like they have done MANY times before. NOTE: This is NOT a RACIST issue, "INFILTRATION is an OLD WAR TACTIC" period ! Like we have said many times before WW2 NEVER ended it just HID and repackaged itself many different ways with many different kill tactics. The SECRET SOCIETIES, DARK CABAL ILLUMINATI have done the same war tactic moves BESIDES LYING. HIDE, TWIST, INFILTRATE, DIVIDE, SECRET FACTIONS, CHANGES NAMES of PEOPLE, CHANGE NAMES of CORPORATIONS, CHANGE NAMES of BANKS, BANKSTERS etc. HIDE, TWIST, CHANGE whilst LYING and INFILTRATING, like NASA = NEVER a STRAIGHT ANSWER etc. DIVIDE & CONQUERING many ways that are MIND-BOGGLING to our sleeping LAMBS.

LIE and HIDE, half-truths or OMISSION – HIDING, yet RIGHT out in the OPEN, they just love to MOCK MASTER JESUS with a upside down cross.
EYES TO SEE, same like REVERSE SPEECH the REPTILES use.
THESE aren't just SIGNS of the TIMES, it's SYMBOLS and MOCKERY !
There are VIDEOS that I posted somewhere out there, I had posted them before. THAT many CLONES that they had made were actually DEAD people from old like black and PHOTOS, [the GREYS and REPTILES, I guess could USE them for clones as we KNOW as ONE of their ways to INFILTRATE. The cabal had their hands on CAMERA'S way before we did, ONLY the RICH would have them first or would get own PAINTINGS done. NOW some of these paintings, clones were made of them as well.
This is ONLY one of these videos. OH the RABBIT HOLE goes deeper. PEOPLE have many questions and it is NOT about GEORGE CARLIN, who doesn't look like his so-called DOPELGANGER. QUESTIONS to think about. ARE these CLONES of REAL FAMOUS people that were murdered and then mocked by cloning them ? Are they REAL family history photos of ancestors ? Or ARE they REAL HUMANS that were hijacked from the REPTILE BRAIN WORM that were used to INFILTRATE like they have been doing ALL along. These DARK force ENTITIES have been around a VERY very LONG TIME and they could be MILLIONS, if NOT billions of years old. It would be fascinating to find out more however I do NOT wish to put anymore time into this BECAUSE I WANT to spend MY time DOING and CREATING more positive THINGS. HOWEVER, they say HISTORY REPEATS itself, but whose HISTORY are they talking about OUR history or their HIJACKED version of our history ? THE DARK FORCES copy EVERYTHING that GOD invented. GOD invented the TWIN-FLAMES and TWIN BABIES and since they can NEVER PRODUCE TWIN-FLAMES because they were invented with a spark of LIGHT, they clone twins. The DARK FORCES, COPY, REVERSE and TWIST also with their CREATIONS and THEIR LIES, "LIVE" on TV means "EVIL" spelled backwards, they also like to REVERSE things and hang them upside down thinking that THESE SACRED SYMBOLS give them more power WHEN REVERSED or UPSIDE DOWN. FASHION industry is DIRTY at the TOP. SEE the NEXT VIDEO below. SHOVING IT in YOUR FACE ! MOCKING NOT ONLY GOD our CREATOR but the ENTIRE human race. If it wasn't for ALL of US BRILLIANT souls – HUMANITY would be lost.
MOCK, TWIST and REVERSE even in the FASHION INDUSTRY !
REMEMBER the ICE CREAM video I posted? Well here is another one.
**********************************************************************
The Rumor Mill News Reading Room
link: Breitbart – "Islamic State Fighter On Trial Admits Terror Group Sent Him Disguised As Refugee"
Posted By: hobie [Send E-Mail]
Date: Saturday, 17-Feb-2018 20:18:39
http://www.rumormillnews.com/cgi-bin/forum.cgi?read=93859
*******************************************************************
BINGO!  And WE are LABELLED as "ISLAMOPHOBES" for TRUTH telling !

*********************************************************************
Islamic State Fighter On Trial Admits Terror Group Sent Him Disguised As Refugee
Three Syrian migrants are currently on trial in Hamburg for being members of a terrorist cell and one of the men has admitted that the Islamic State terror organisation sent him to Germany telling him

to disguise himself as a refugee

.
The three Syrians, aged between 19 and 27, came to Germany during the migrant crisis in 2015 and were arrested in September of 2016 at asylum homes in Ahrensburg, Großhansdorf and Reinbek near Hamburg, Suddeutsche Zeitung reports.
For the last eight months, the judges in the court have tried to determine whether or not the men were sent by the Islamic State, or whether they were radicalised independently.
The eldest defendant, 27-year-old Mohamed A., confirmed to the judge that he had been commanded by the Islamic State terror group to infiltrate the wave of refugees and wait in Germany for further instructions.
The 27-year-old said that he trained with the terror group in its former capital of Raqqa for three months with four different weapons before heading to Europe. An Islamic State member also gave him a forged passport along with a sum of $1,500.
As early as December of 2015, three weeks after he arrived in the country, German police showed up to Mohamed's asylum home and told him they had an eye on him. As a result, no contact from the Islamic State came.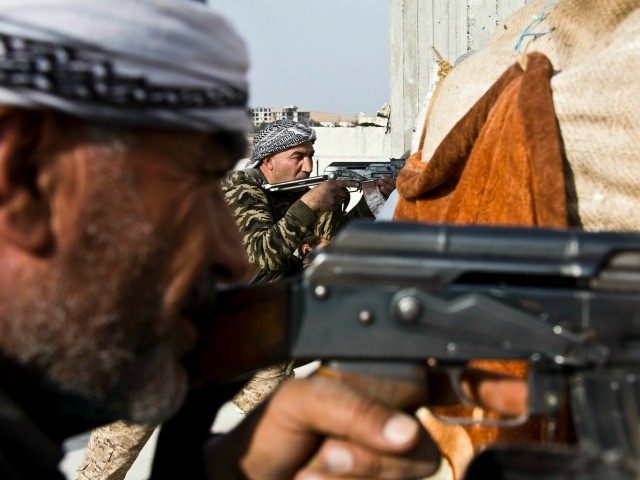 The fear of the terror group sending fighters to Europe as asylum seekers has been constant since 2015 and many warned that the group would employ such tactics.
The German Federal Intelligence Service (BND) released a report in late 2016 claiming that hundreds of jihadists have come to Europe disguised as refugees, and last year the Heritage Foundation released a report showing that asylum seekers made up 54 percent of the suspects in terror plots uncovered in Germany.
 Follow Chris Tomlinson on Twitter at @TomlinsonCJ or email at ctomlinson(at)breitbart.com
http://www.breitbart.com/london/2018/02/17/islamic-state-fighter-trial-admits-terror-group-sent-disguised-refugee/