Before It's News‏ @beforeitsnews
Big Pharma Paid Millions in Secret Settlements After Antidepressants Linked Mass Murder https://goo.gl/gEjAe7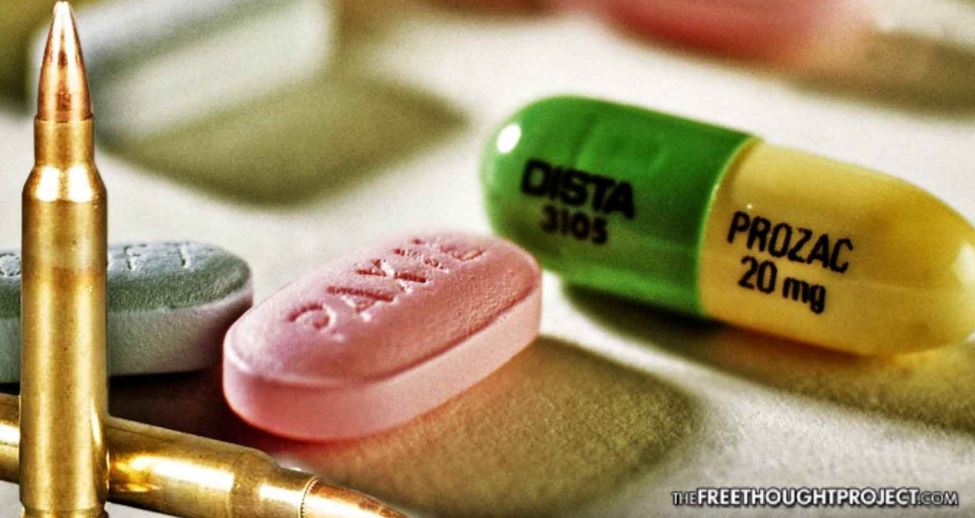 Big Pharma Paid Millions in Secret Settlements After Antidepressants Linked Mass Murder
Monday, March 12, 2018 14:26
by Rachel Blevins, The Free Thought Project:
Major pharmaceutical companies have spent hundreds of millions of dollars covering up lawsuits over suicides and mass murders caused by popular antidepressants.
Every time there are reports of a mass shooting, there are a number of people who automatically question whether the suspect had mental health issues or was taking prescription medications such as antidepressants.
While history has shown that the most notorious mass shooters in this century were taking antidepressants or Selective Serotonin Reuptake Inhibitors (SSRIs) before they carried out the deadly rampages, there are a number of killings that have been linked directly to the dangerous drugs. In fact, the pharmaceutical companies behind the most popular SSRI's have paid hundreds of millions of dollars in damages:
Eli Lilly Paid Secret Settlements to Survivors After Man on Prozac Went on Shooting Rampage in 1989
Joseph T. Wesbecker, 47, carried out a mass shooting in which he shot 20 workers at Standard Gravure Corp. in Kentucky, in September 1989. Eight of the victims were fatally wounded, and Wesbecker ended the rampage by shooting and killing himself.
Just one month earlier, Wesbecker had started taking the antidepressant Prozac, which included side effects such as "obsession with suicide and dangerously violent behavior," according to an article in the American Journal of Psychiatry.
When the survivors of the shooting filed a lawsuit against Eli Lilly arguing that it had known about the propensity of Prozac to cause violent outbursts and suicidal tendencies, the company convinced the victims to agree to secret settlements outside of court.
GlaxoSmithKline Paid $6.4 Million to the Family of a Man Who Murdered Three Family Members Hours After Taking Paxil in 1998
Donald Schell, 60, was prescribed the antidepressant Paxil to treat depression in Wyoming in February 1998. Within hours of taking the first dosage, he burst into a fit of rage and fatally shot his wife, Rita; their daughter, Deborah Tobin; and their 9-month-old granddaughter, Alyssa.
Schell then shot and killed himself. His remaining family members filed a wrongful death lawsuit against the pharmaceutical company behind Paxil, and they were awarded $6.4 million based on "the company's failure to sufficiently warn doctors and patients that the effects of the drug could include agitation and violence."
GlaxoSmithKline Also Paid $3 Million to the Widow of a Man Who Committed Suicide After Taking Paxil in 2010
Stewart Dolin, 57, was working as a corporate attorney in Illinois when he was prescribed the generic version of the antidepressant Paxil for depression and anxiety. While taking the drug, he committed suicide by jumping in front of a Chicago Transit Authority train.
His widow, Wendy Dolin, filed a lawsuit against GlaxoSmithKline, arguing that the company failed to warn her husband's doctor that the drug he was being prescribed would increase his risk of suicidal behavior, which led to his death.
"This for me has not just been about the money. This has always been about awareness to a health issue, and the public has to be aware of this," Wendy Dolin told the Chicago Tribune after she was awarded $3 million in compensation.
Read More @ TheFreeThoughtProject.com
Source: https://www.sgtreport.com/articles/2018/3/12/big-pharma-paid-millions-in-secret-settlements-after-antidepressants-linked-mass-murderWe encourage you to Share our Reports, Analyses, Breaking News and Videos. Simply Click your Favorite Social Media Button and Share.
 http://beforeitsnews.com/economy/2018/03/big-pharma-paid-millions-in-secret-settlements-after-antidepressants-linked-mass-murder-2938343.html