QUICK NOTES – these shows are best when you listen to ALL of it.
HEALTH TIPS and GALACTIC INFO and what is going-on. There are 800 races that we know of that are just energy, they never take on form.
DR. SAM: SOMEBODY is releasing pictures of MARS and construction is being blown-up. You can see it through the heat sensory that they are having these explosions in various locations on Mars, what's up ?
KENT: Well I can tell you what is going-on is they had the GERMANS up there since World War 2 and they have been on MARS all this time and was building the buildings up there and making them into swastikas. The groups that are up there NOW have told the GERMANS, that YOU are NO LONGER WELCOME on MARS. And the second phase of their rebuilding started in JAN/FEB of this year and what they are doing is they are BLOWING-UP all of the BUILDINGS that have anything to do with the GERMANS, the SWASTIKA or the questionable 3rd Reich in it. 
DRAKE: They just discovered a large JUMP-ROOM on MARS that was something that will handle things BIGGER than people, so that is ONE of the ways they are getting MATERIAL up there. They got 3 jumprooms from MARS, the ones from VENUS they stay away from, generally HOT. They got a problem with a signet[?] or POWERS that USED to be etc. That is why they are getting RID of the NAZI SYMBOL.  The NAZI symbol is an X or cross either way equilateral and depending which way the flag at each one of them points depends on weather a beneficial or good wind or a nasty bad wind. Check that out and if you want to really get into it, goes both ways better known as a squared cross signifies the ROYALTY involved that originally put it together. You take it the next step up and you find that somebody decided to add a leg as a square box that is divided by the cross and make it a SIGNET CROSS. Forefather's of the TEMPLAR'S let's say, do it that way, it's easier and adding a third cross to cross and what you end up with is a stick with 3 crosses, the first cross is long, the next one NOT so long and the third one not so long as that. And that's one of 3,6,9 tricks, O.K. 
[Something like this below or reversed may be – what DRAKE means]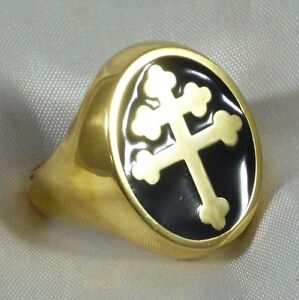 DR. SAM: I have seen that cross being used, doesn't the KNIGHTS of the TEMPLAR use that, or… ?
DRAKE: Have you ever seen an EXXON mobil sign? There is your cross right out in Public view.
DR. SAM: When the RV comes, actually the E.T's want to FLOOD our economy with lots and lots of money to make it a moot point. We no longer need it. At that point the replicators are coming and the replicators are going to go off points, and you EARN POINTS. Now DRAKE this seems right up your alley is this HOW the replicators are going to work and how do you gain points to replicate ?
DRAKE: ONLY people that are NOT initiates will be under that purveyance. There is going to be a pre-issuance of a combination of things to select individuals, a million of us on planet. And we get a combination of both replication but we get the replicator with the super-battery it will run between 24 and 30 kilowatt hours constantly for over a hundred years [AWESOME or what?] along with doing replication but only the NON-INITIATES are going to be under control.

DR. SAM: What's a NON-INITIATE, I mean WHO would be one ?
DRAKE: Any body that ain't WOKE-UP and a lot of people that look at shows like this and goes – "BAH HUMBUG." or whatever [he laughs] PEOPLE who don't have a CLUE to what the realities of things are and realists who refuse to accept anything spiritual or otherwise is outside of the physical parameters, those are non-initiates. Now an initiate that is just beginning we be under control for a short period of time. Those of us that have PROVED OURSELVES, WE get the whole shebang all at once. 
DR. SAM: O.K. Now you said PROVE OURSELVES, what do you mean WE PROVED OURSELVES, what do you mean, we walk a straight line or what does that entail ?
DRAKE: "SERVICE to OTHERS" instead of SELF as a way of LIFE. A continual and constant contact with ET Knowledge of all of the realms. Activatively participating in the MILITARY – upstairs.
I stopped at around 10 minutes for the notes, listen to the rest.
Dr. Sam Mugzzi, Kent Dunn, Drake Bailey
Updates and current affairs.