SOME NOTES and QUESTIONS for the "ARCTURIANS"
I used to think that humans were only PURE HUMAN from the divine SOURCE. THEN WE FIND OUT some souls have been OBVIOUSLY EXPERIMENTING with our DNA. Then we find out in order to exist on a 3D LEARNING PLANET such as EARTH was that all LIGHT FAMILY MEMBERS have to loose all of their past life memories in order to reincarnate as a newborn babe. Is there such a thing as a PURE HUMAN with all these different genetic experiments the DARK FORCES did to us. Was it done out of JEALOUSY or was it NOT ALLOWED and DONE AGAINST – OUR FREE WILL and/or HEAVEN'S PERMISSION ?

WE SEEM to be so much MORE than we've been taught.

I have also done a lot of RESEARCH about the holograph trick the EVIL BEINGS used to SHAPE-SHIFT to hide their TRUE IDENTITY as a DRACONIAN.
** I don't know everything so I ask ALL BEINGS to THINK for themselves and THINK outside the BOXES and LABELS and CATEGORIES that other like to LABEL US and put us in. And to do your OWN RESEARCH – just watch out for the DARK FORCES like to put a lot of HALF-TRUTHS and FALSE INFO [CIA] in order to CONFUSE US.

I READ somewhere awhile ago that the GOOD-GUY BEINGS have the ability to SHAPE-SHIFT into a BEING that were in a past life. If that is TRUE and possible could someone in this existence, say one of the MASTERS, could I be seen as the male being and/or change my outside appearance to look like a person that I was in a past life, either MALE or FEMALE, although I am SAINT ANDREW IN SPIRITUAL ESSENCE yet here as ANDREA in a FEMALE BODY BUT – COULD I APPEAR as SAINT ANDREW to others and/or LOOK LIKE OTHER BEINGS ? DO WE have that kind of like SUPER-NATURAL POWERS, like that as well ? 
MY QUESTIONS are ……………..,
DO ONLY EVIL or NEGATIVE BEINGS SHAPE-SHIFT. ?
ARE only the DRACONIANS capable of SHAPE-SHIFTING or can ALL other NEGATIVE BEINGS SHAPE-SHIFT like a MANTID ? IS SHAPE-SHIFTING only available to the ONE TYPE OF BEING ?
WE hear we have some BENEVOLENT DRACONIANS here too to help us and they help with the MILITARY. We were also told that MOST of the DRACONIANS that were here were EVIL on the dark-side.

WHAT I have discovered;
* ONE must NOT DEVELOP HATRED towards ANY RACE or being types. As ALL BEING TYPES and SPECIES are capable of GOOD and EVIL. ALL you have to do is look at those in GOVERNMENTS and you will find differing AGENDA'S, OPINIONS and ATTITUDES etc. YET EVERY GOVERNMENT EMPLOYEE is CAPABLE of GOOD or EVIL. JUST LIKE – HUMANITY – capable of ABSOLUTE GOOD or EVIL.
CAN a LIGHT BEING from the DRACONIANS – SHAPE-SHIFT – or do just the DARK FORCES do that to hide their true IDENTITY ?
CAN the SACRED LIGHT BEINGS such as an ESSENCE like myself – DO WE HAVE the capability TO SHAPE-SHIFT, LIKE morph into a BEING from one of our PAST LIVES or is that CONSIDERED – EVIL ? Or is it possible that many might think it's EVIL to SHAPE-SHIFT because it HIDES the TRUE IDENTITY.
DO some of US HAVE REAL ANGEL WINGS as depicted in old paintings as I saw and posted ANGELIC BEINGS OF THE LIGHT that were warring in the sky with DARK FALLEN ANGELS. DO ALL ANGELS have these SUCH BEAUTIFUL LOOKING "ETHEREAL LIKE WINGS" AS I WITNESSED through my RESEARCH in the skies ?
DO WE have to be open to the POSSIBILITY that we AS THE LIGHT could in the FUTURE  = MORPH into a BEING either MALE OR FEMALE from a past life and appear to others looking DIFFERENT than we are NOW. Is SHAPE-SHIFTING considered EVIL on other PLANETS or CONSIDERED "NORMAL?" And would THAT BEING LOOK SOLID OR WOULD we LOOK LIKE "GHOST-LIKE" see-thru to other BEINGS ?
"I just get this FEELING that there is SO MUCH MORE to US that we have been told as THE HUMAN RACES. LIKE – WE are way more POWERFUL in certain WAYS and that WE HAVE THE capability OF CHANGING SO MANY THINGS for the – GOOD of ALL BEINGS."

"I feel like we are in for a somewhat MAGICAL RIDE of our LIFETIME and neat DISCOVERY of ourselves and our DIVINE CAPABILITIES!"
"THE WHOLE THING and ALL these other BEINGS just SEEM SO FASCINATING to me and seems like WE COULD have some interesting discoveries about OURSELVES as to WHAT we can do and/or ARE CAPABLE of." ARE we MORE DIVERSE BEINGS because of all those NEGATIVE RACES that have been messing WITH OUR DNA ?
THE MORE I RESEARCH, the more I realize just how MIND-BLOWING we TRULY ARE in the sense of having so many diverse experiences as LIGHT BEINGS who have INCARNATED as DIFFERENT BEINGS in DIFFERENT PHYSICAL VESSALS. THE "REAL QUESTION" is are WE CAPABLE and CAN WE EXPERIENCE and USE, [FOR EXAMPLE] the ability and agility of THE CAT RACE – having 4 legs and SEE in the DARK, CAN WE turn into A DOLPHIN BEING from a PAST LIFE and say – swim in warm waters etc. And are we at the point, or some of us at this POINT in OUR EVOLUTION that WE CAN GATHER ALL ASPECTS of OURSELVES, ALL OUR WISDOM and SUPERNATURAL POWERS of EACH LIFETIME – ALL INTO OURSELVES to EXPERIENCE – LIKE A NEW PLANE of EXISTENCE and POSIBLITIES but we just have to maybe – unlock it SOMEHOW or COULD WE ALL-WAYS do these types of AMAZING and FASCINATING THINGS, BUT WE FORGOT ? Why all this warring ?
IT IS – possibly – BECAUSE WE MAY BE ABLE – to do so much MORE than other RACES, BEINGS and SPECIES that it has CREATED such immense JEALOUSY of the DARK FORCES because WE ARE SUCH DIVERSE BEINGS that it must be because of us having such GRANDIOSE POWERS that we are so hated by the evil ones. Is this WHY BEING from SOURCE CREATOR that we can do cool things ?
*************************************
The

Arcturian

Council via Daniel Scranton, May 18th, 2019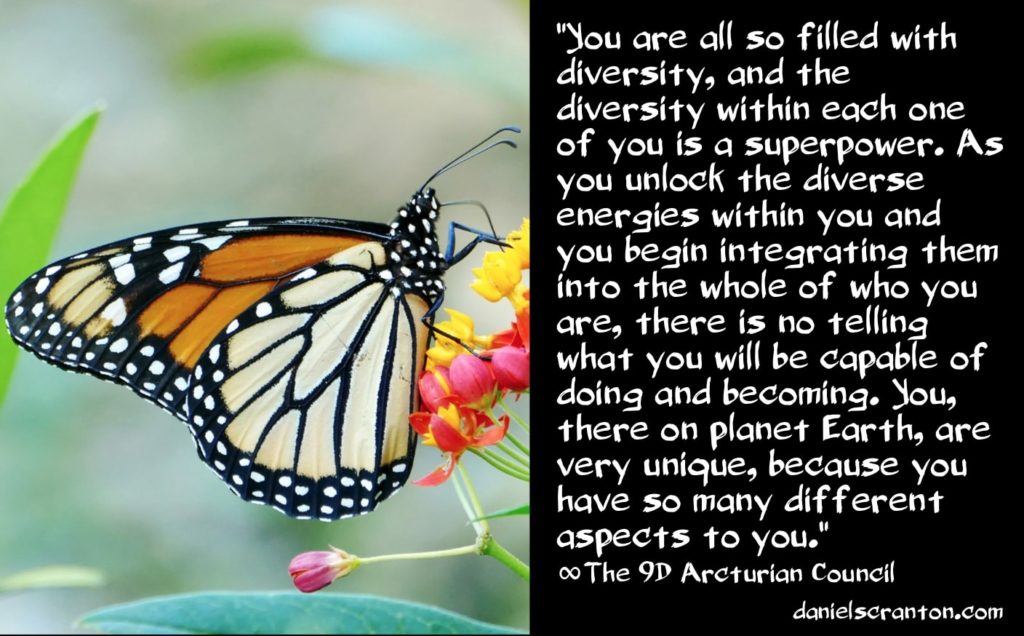 Your Harmonious Whole ∞The 9D Arcturian Council
"Greetings. We are the Arcturian Council. We are pleased to connect with all of you.
We have been getting very excited about the evolution of the human consciousness

because

you are all so filled with diversity

, and

the diversity

within each one of you is

a superpower.

As you

unlock the diverse energies within you

and you begin integrating them into the whole of who you are, there is

no telling what you will be capable of doing and becoming

. You, there on planet Earth,

are very unique,

because you have

so many different aspects

to you.
Because you have

traveled throughout the galaxy,

incarnating

in so many

different

star systems before coming

to Earth

, you have

so much within you to draw upon as you grow and ascend.
Therefore,

humanity

is perhaps the most unpredictable

race

of beings

in

the entire galaxy

, and that is exciting.

It is exciting

because we are talking about unpredictability as it pertains to your growth and evolution,

not your volatility.

You've been getting all of that out of the way. You've been

making more room

inside yourselves

to become more of who you really are.
Now,

the most diverse being is of course Source Energy,

and

the more like Source you are,

the better.

You are more powerful.

You are more creative

.

You are more loving and compassionate

when you are more of your true selves,

and therefore, it is very important for you

to embrace all aspects

of who you are now in this lifetime.

And we are talking about even those aspects of you that you don't like to acknowledge or celebrate.
You have that which is

reptilian

and

insectoids

inside of you, just as you have that which is

feline

and

aquatic

inside of you. You have that which is

mantid

inside of you, and

all of the other beings that you have heard

about throughout this galaxy. They're all inside of you

, and certainly like to celebrate that which is avian inside of you, but you tend to ignore or deny the presence of that which is draconian within you. So we are here now to encourage you to see all aspects of yourselves as being equally powerful and contributing to the beauty of that diversity within you.
If all of the beings in the galaxy always got along, then there would be no designation of either good or evil. So if you can manage to be your harmonious whole in the now moment, you can draw upon all of that power, all of that wisdom, and all of the love that exists within each of these beings that you have been in other lifetimes and that you carry the energy of right now in this one. Embrace all of you and know yourself more as a Source Energy Being.
We are the Arcturian Council, and we have enjoyed connecting with you."