OBVIOUS ENERGY UPDATES – BLAST after BLAST of ENERGIES !
Transpicuous News

Geomagnetic

Update: July 9 2019
Published on Jul 9, 2019
The Geomagnetic fuckery has continued with very strange "

blasts

" coming in the past two days at 8pm and 4am UTC time. Last night, starting at 20:00 UTC we experienced

wave after wave

of

huge blasts

that continued

for HOURS,

abated for a short while, and then started up again at

4am

this morning. https://www.rts.earth/transpicuous-ne…
*********************************
Mother,

Father

, and

Yeshi

via Galaxygirl | July 7, 2019
Mother, Father and Yeshi via: galaxygirl 7/7/1
Mother, Father and Yeshi 7/7/19
Dearest children, this is your Mother God speaking. I love you all so much! I enwrap you in blankets of love-light. Can you feel my embrace? I see you through the eyes of exquisite love and joy. Can you feel my gaze of pure love upon you? No matter what has happened to you in this earthly journey or any other, nothing can dim my pure love for you. Forgive yourselves darlings, and move ahead, unencumbered. Be free. For it is the time of freedom in this new earthly chapter as Gaia creates yet another layer of love-light on her form. Such a beauty. We are all cheering you on with tremendous love. I am your Mother God. Nestle into me. I am always here for you.
Children, this is your Father God speaking. Go Team Gaia! Do you see me cheering in the stands, totally excited? Stamping my feet? Cheering your name! You've got this! All of heaven's resources are at your disposal, you need only ask. Now how cool is that? I am your Father God, your biggest fan, and your loudest cheerleader. Go for it! Go create something awesome and tell me all about it!
I am Yeshi. We are gathering around this one tonight, and all of our precious light-workers, for the time is now. The time is nigh. The time is here, friends and we are eager to see what you will do with it. I extend the mantle of the Christed ones to you. Feel my light. See my scarlet ray of pure love and allow it to en-coat your cells, your happiness, your unhappiness, your tears, your joys. Allow it to become an integral part of the fabric of you. Become the Christ. Become my hands and feet. I am called Yahshua Ben Joseph. You may call me Yeshi. We are one, we are here to serve, to extend light, love, joy, healing and laughter. Become the Christ with me, see my yoke is easy and my burden is light. Be light-hearted with me. Let us sit by the fig tree together in the sunshine and talk. Tell me of your plans and let us heal your wounds. There is no more time for the past in the present. Time to send light and love and heal it, whatever it may be, and allow my Christed flame to assist, if you should desire. For we are one. I imprint my fingerprints on your heart-space, we are one. I see you. I see you. I see you. I know you. I know you. I know all of you. I love you. I love you. I love you. Be freed of this sorrow once and for all. It was but a lesson learned, a wound to be healed. Let us heal it once and for all. See? You are free. You are loved beyond your current comprehension of love. Shall we expand it?
I am Yeshi. We have come tonight with great love with the intention of cheering you up and onward on your path of ascension. Victory to the light! You are tremendously loved and valued for your support and service to humanity and to Gaia. Peace.
~ galaxygirl
https://www.youtube.com/watch?time_continue=24&v=nhxJAliRVDc
Published on Jul 8, 2019
Michael via: Michael Love July 8,2019
GLORY

TO ALL THE EARTH AND TO ALL THE BEINGS WHO DWELL HERE!

THE LIGHT HAS WON! THE LIGHT HAS WON!

LIFT UP YOUR EYES AND SEE!

THE GREAT DAY OF MANKIND HAS COME

AND

YOUR WEARY JOURNEY HAS COME TO ITS END!

WE

HEARLD GREAT TIDINGS,

"

THE LIGHT HAS WON, AND NOW HUMANS SHALL BE FREE FOREVERMORE!

"

I AM MICHAEL WHO STANDS BESIDE YOU TO GIVE YOU GREAT STRENGTH AND HOPE!

I HAVE BEEN WITH YOU SINCE THE FIRST DAY AND I SHALL BE HERE UNTIL ALL THINGS ARE FULFILLED! I AM NOT FROM THIS WORLD, BUT I AM IN IT WITH YOU AND I AM ONE OF YOU! NOW ALL THE GREAT ASCENDED MASTERS AND THE ARCHANGELS ARE NEAR, FOR YOUR GREAT DAY HAS COME! WE

ALL KNEEL IN MAJESTIC HONOR OF YOUR GREATNESS,

RECOGNIZING

THE GRAND SACRIFICE

YOU MADE BY COMING

TO COME TO EARTH, AGAINST ALL ODDS

AS A WARRIOR

OF

LOVE

AND

LIGHT

,

TO RETURN THIS PLACE INTO THE PARADISE

IT WAS ALWAYS MEANT TO BE!

WE ARE YOUR GREAT FAMILY OF LIGHT

AND TOGETHER

WE SHALL INHERIT

THE

HIGHEST KINGDOMS OF HEAVEN

AND

NEW

EARTH

, IN ALL LOVE AND PEACE,

AS OUR CELESTIAL

AND ETERNAL

REWARD! WELL DONE

GOOD AND FAITHFUL ONE!

GOD-SPEED TO ALL GREAT BEINGS OF LIGHT! I AM MICHAEL! https://5dearthproject.com
July 9, 2019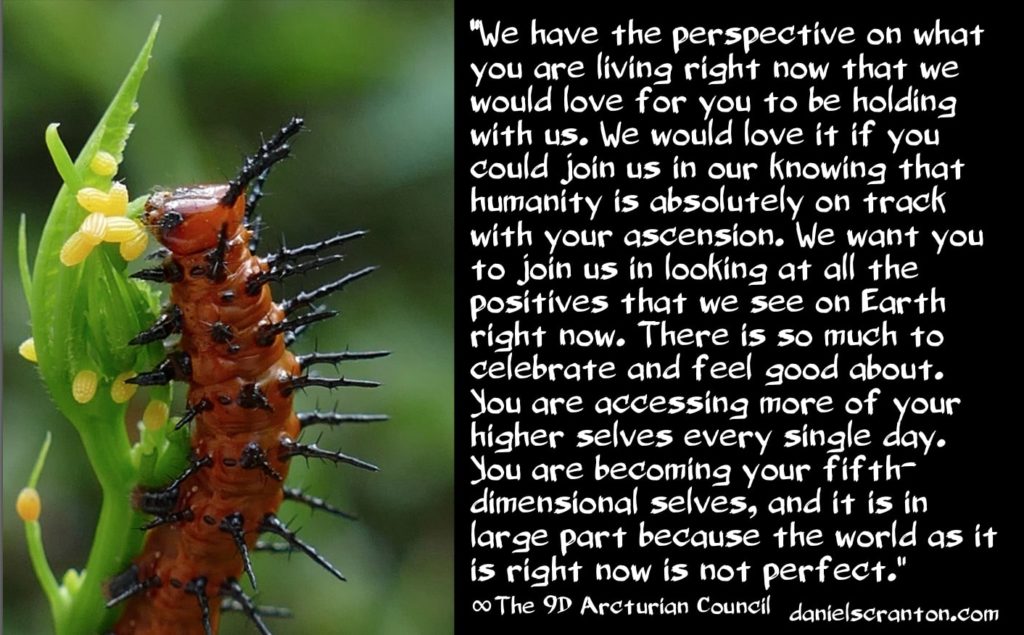 Ascension

is on Track

∞The 9D Arcturian Council
"Greetings. We are the Arcturian Council. We are pleased to connect with all of you.
We have the perspective on what you are living right now that we would love for you to be holding with us. We would love it if you could join us in our knowing that humanity is absolutely on track with your ascension. We want you to join us in looking at all the positives that we see on Earth right now. There is so much to celebrate and feel good about. You are accessing more of your higher selves every single day. You are becoming your fifth-dimensional selves, and it is in large part because the world as it is right now is not perfect. It is perfect, in a sense, but in the sense that people are still killing each other and hating each other, it certainly is not.
So how does the imperfect world that you live in serve you as evolving and ascending beings? Well, it helps you to get to a very Source-like place, and the ultimate experience is knowing yourself as Source while still maintaining a physical body. How do you get to that Source-like place, you might wonder? Well, Source is all-loving, all-forgiving, all-compassionate, and if you don't have conditions that are inherently unlovable, how can you know yourself as the truth of who you really are? How can you know unconditional love without those conditions that are abhorrent? How can you forgive unless someone really hurts you first? How can you know unconditional compassion unless there's someone out there doing something who deserves absolutely no compassion whatsoever?
This is why the conditions are perfect. It is because there are enough of you who are deciding to be the love in the face of the darkness and the hate. There are enough of you now to bring the evolution of consciousness within humanity to new heights. You will never get there by pushing against anyone or anything in existence, and there are so many of you now who have seen enough to know that resistance and fighting simply does not work.
You must find it in your hearts to be who you really are in the face of so many who are still clinging to those old, egoic ways. If you are receiving this message, you are the ones, and whether you realize it or not, you are all working together.
We are the Arcturian Council, and we have enjoyed connecting with you."
eraoflight.com
Mira of the Pleiades:

The Beauty that is Unfolding
by EraOfLight
---
Greetings, I am Mira. I speak today through the screen of truth, unfiltered so you will have something with which to work. Gone are the days of distortion. There is no time left for that. The utter imbalances in the corrupt systems are playing out to their darkest demise.  The outcome will bode well for the light and the entire planet. The slate is being cleaned to the point where you will have a shiny new earth. You will be able to shine and sparkle in your true state of love and light. You are ready.
There is still some completion that has to happen. Some beings must be apprehended and moved elsewhere, not on the earth. Falsities must be erased for the truth to be seen and heard. Attempts at preventing the Divine Plan must be foiled. The script for the Reign of Terror must be destroyed. Everyone has to be in their place so that the shift can occur safely and peacefully. Stargates and escape routes will be closed and sealed. There is a long list of items that are being completed.
Meanwhile, humanity is being prepared for the inevitable. Some are beginning to consider that there is life on other planets and that the earth is not the only life form in creation. Many are awakening and coming to new realizations. Fear of the Galactics and other dimensional beings is being cleared with the help of the Light Alliance and the Galactics. Many complicated scenarios are ready to be activated. Truth is simple and you will be set free.
The beauty that is unfolding is beyond comprehension. You have worked so diligently for so long you deserve the very best of life. You will be given everything that you need for a new life in the higher dimensions. We will come and help you to adjust. You have many Galactics and other star systems that are all working together with all of creation for the Ascension. It is a powerful process that is being conducted with the utmost love.
Transformation is the energy of the day and the days ahead. It will happen at every level from your cellular structure to every hair on your head. Your brains will be completely changed and your hearts opened as widely as possible. The earth is being changed and her vibrations are being elevated just like yours. Some of you may find yourselves changing work, location, your entire being.
This is a most important project. It is relevant to all of life and all of Creation. Continue to bond with us with your hearts and your full intentions to do your part in the name of oneness and love. We are blessed to be with you now.
» Source » Channel: Valerie Donner
MYSTICAL METAPHYSICS
DISCOVERY OF THE CENTURY | "This Will Change The Entire Humanity" | Gregg Braden and Bruce Lipton
"Q ANON"

UPDATES
Anonymous c03be1 (8)  No.6961585
"Q ANON" UPDATES

*******************************
EARTHQUAKES

UPDATE
Can't believe the cabal tried to take-out DUTCHINSINSE and his wife !
*******************************
Today on the show talking about Jeffery Epstein Arrest as a precursor to bringing down EVERYTHING! Very exciting times!
FIRES

BREAK-OUT

JULY

2019
**********************************
FLOODS

UPDATES

JULY

2019
**********************************
WHAT IS THIS??? WASHINGTON DC FLOODING
Filming a river in Southern china above
flood

stage, a raft of bamboo drifts under a bridge. To my surprise 3 bloated dead pigs …
*********************************
WORLD

FREEDOM

UPDATES !
*********************************
Michael via: Michael Love July 8,2019 HUGE ANNOUNCEMENT!
Published on Jul 8, 2019
Michael via: Michael Love July 8,2019
GLORY TO ALL THE EARTH AND TO ALL THE BEINGS WHO DWELL HERE!

THE LIGHT HAS WON! THE LIGHT HAS WON!

LIFT UP YOUR EYES AND SEE!

THE GREAT DAY

OF MANKIND

HAS COME AND YOUR WEARY JOURNEY HAS COME TO ITS END! WE HEARLD GREAT TIDINGS, "

THE LIGHT HAS WON

, AND NOW

HUMANS SHALL

BE FREE FOREVERMORE

!"

I AM MICHAEL WHO STANDS BESIDE YOU TO GIVE YOU GREAT STRENGTH AND HOPE!

I HAVE BEEN WITH YOU SINCE THE FIRST DAY

AND

I SHALL BE HERE UNTIL ALL THINGS ARE FULFILLED!

I AM

NOT FROM

THIS WORLD, BUT I AM IN IT WITH YOU AND I AM ONE OF YOU! NOW

ALL THE GREAT

ASCENDED MASTERS AND

THE

ARCHANGELS

ARE NEAR, FOR YOUR GREAT DAY HAS COME! WE ALL KNEEL IN MAJESTIC HONOR OF YOUR GREATNESS, RECOGNIZING

THE GRAND SACRIFICE

YOU MADE BY COMING

TO COME TO EARTH,

AGAINST ALL ODDS

AS A WARRIOR

OF

LOVE

AND LIGHT

, TO RETURN THIS PLACE

INTO THE PARADISE

IT WAS ALWAYS MEANT TO BE!

WE ARE YOUR GREAT FAMILY OF LIGHT

AND TOGETHER

WE SHALL INHERIT

THE HIGHEST KINGDOMS OF HEAVEN AND NEW EARTH, IN ALL LOVE AND PEACE, AS OUR CELESTIAL AND ETERNAL REWARD! WELL DONE GOOD AND FAITHFUL ONE! GOD-SPEED TO ALL GREAT BEINGS OF LIGHT! I AM MICHAEL! https://5dearthproject.com