I have been TALKING about this for years,

the AWAKE

find

it sickening
PRAY for

the RESCUERS

and for

SAFE RESCUE

of

the CHILDREN !
YIKES = The truly SICK REALITY we are/were LIVING in.
KIDS IN CAGES
10.5K subscribers
[[[https://www.youtube.com/watch?time_continue=30&v=gOlf3AI0vQg&feature=emb_logo]]]
SERIOUSLY SICK and TWISTED =  SATANICALLY  HORRID !
HILLARY CLINTON

CHILD

TORTURE VIDEO (F R __A_Z _ZEL__DRIP) DESCRIBED
In Re: Child abuse photo(s) (Panda Eyes)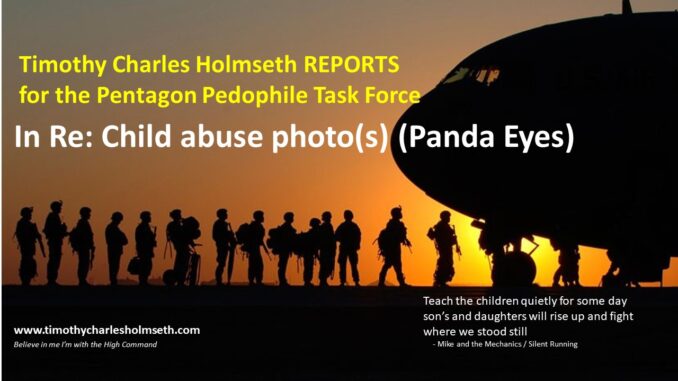 by Timothy Charles Holmseth on April 20, 2020 at 9:34 A.M.
Note: The details of the abuse of the child are not known to this author. The photo is used as an example of child abuse because it is already published and subject to fair use.
The Pentagon Pedophile Task Force has been covering the rescue of tortured babies and children in New York's Central Park where they are being brought up from subterranean tunnels and caverns.
I regularly receive demands for photographic proof that supports the reports regarding the children. My regular response is that we are not going to publish photos of the children for many reason including HIPPA and child pornography laws.
There was a photo (see below) recently posted on Instagram and Facebook of an abused child. The child appears to have two black-eyes. Most people don't know that when a baby/child is sodomized it causes their eyes to turn black from the pressure and trauma. Thus, it is referred to as 'Panda Eyes'.
I am re-publishing it for purposes of awareness and The Great Awakening.
Suffice…
It's WORSE than what you see here.
Believe in me I'm with the High Command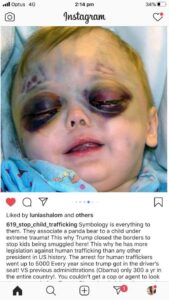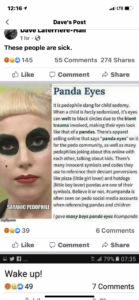 update – TORTURED BABIES RESCUED FROM UNDER CENTRAL PARK – NEW INFO ON SUDDEN DEATHS OF THE BABIES
update – TORTURED BABIES RESCUED FROM UNDER CENTRAL PARK – BROUGHT UP UNDER MEDICAL TENTS – update