Dark Winter, Civil Unrest, & Walmart
2,791 views•Oct 27, 20202009ShareSaveHomesteading Ways & Beyond 21.7K subscribers Dark Winter, Civil Unrest, & Walmart These are dangerous days we're living in. Riots, looting, lockdowns, food shortages and chaos of all sorts may be heading our way. Are you ready for it? Useful links for learning why there may be civil unrest-
Pinned by Homesteading Ways & Beyond Homesteading Ways & Beyond 6 days ago Helpful links about possible unrest- thanks for watching! https://www.shutdowndc.org/https://www.disruption-project.org/abouthttps://docs.google.com/document/d/1WtDZYQ7Q-PUhxhv8VuRVfeD7q3DSpthktlYD-nx4pSc/edit?link_id=9&can_id=17b52cd56b5ae77d0dcb874341a662b8&source=email-resources-for-folks-outside-the-dc-area-but-also-useful-for-dc-people&email_referrer=email_950567&email_subject=resources-for-folks-outside-the-dc-area-but-also-useful-for-dc-people 3
Art Terapija 5 days ago Trudeau today said "dark times" in his speech. This isn't a coincidence that the world leaders are repeating the same key words. They are conditioning/programming the people for the next big event. 21
Bob Stevens 2 days ago (edited) The power grid will go out. The military will be called in to stop riots. Most businesses will stop, including grocery stores. The stock markets will crash and so will all of the banks. People will lose all of their money and kill each other for food. Then chaos, cold, and starvation will cause millions to die. The military will bring order again. They will move people to smart cities where they can be monitored 24/7. You will need to be vaccinated regularly to receive government aid in the form of a universal basic income where everyone gets paid the same amount of money every month. Afterwards comes the Mark of the Beast in order to buy and sell.
Glenn Greenwald Spells it out (Decode by Kat)
Source: Dinar Chronicles | By Kat Q is back. Hooray. 7 days without Q-drops was too long. Q Yesterday, a dear friend told me with absolute … X22 Report — Episode 2113: The Economic Strategy, Watch the News for Next EventDestroying the Illusion — [3.3] Klobuchar Quits, they all Endorse Biden, "Who Is Q?" Trends on Twitter, Other Fake NewsX22 Report — Episode 2109: Witnessing the Transition, No Report, Just Indictments
Source: Dinar Chronicles | By Kat
Q is back. Hooray. 7 days without Q-drops was too long.
Yesterday, a dear friend told me with absolute conviction, that [B]id*en would win without question. Without a shadow of a doubt. There was no way POTUS could possibly win.
I asked him if he was aware of the information on the [H]un*ter laptop? That the [B]id*en crime family has received BILLIONS of dollars in bribes?
Yes. He was aware.
It's like the [H]il*lary Emails—none of it matters to those who are mesmerized by the Mainstream Media.
I live in California and am surrounded by Liberals. I was and am in my heart a Liberal, in what I thought was the party of John F. Kennedy. Then I began to understand that the Democrats were de_ep state de_mons and lately, that they were infiltrated by the CCP who run them.
I was hoping the Alliance would start revealing big arrests but it's 4 days to the Election and I guess they've decided not to although how they think people will "wake up" I do not know.
I've long believed that deep sleepers need major Truth Shock Therapy! But they're not getting it or they're not hearing it.
How can a clone, [J]oe [B]i*den, who is also a pe*do*phile, a [C]hild [T]raff*icker, a [T]rea*sonous government official, who carried out the m*ur*der of SEAL Team Six, still be running for President of the United States?
I don't understand the complicated Chess the Alliance are playing, but they have a Plan and I trust it.
In this film clip with Tucker Carlson, Glenn Greenwald outlines Globalist power perfectly, unfortunately, those who are glued to CNN won't hear it.
xo, Kat
https://operationdisclosure1.blogspot.com/2020/10/glenn-greenwald-spells-it-out-decode-by.html
Update (October 31, 2020): The CCP's Deep Infiltration (Biden Hard Drive) || Mina (Reader)
Reader Post | By Mina Dear Madam/Sir, We are Chinese living in Australia, seeking rule of laws, freedom of speech for people in China. Why… SpaceShot76 — QAnon (11/20/19): Ukraine BoomerangSierra (NZ) — New Q: '$7.4 Billion Corruption Between Ukraine and Democrat Party'X22 Report — Episode 2026: Economy is the Key, Ukraine Comes into Full View
Reader Post | By Mina
Dear Madam/Sir,
We are Chinese living in Australia, seeking rule of laws, freedom of speech for people in China.
Why do we send those info?
The info below appears some s[e]x news from your first impression but what we want to reveal is the truth of CCP's intervention to US politics by working with or even controlling [J]oe [B]iden/[O]bama group via s[e]x tape/money. This could also possibly happen in Australia which is why recently the Australian government provided some guidance on how to deal with CCP.
[OpDis Editor Note: Explicit content can be found at the links below. Viewer discretion is advised.]
The Third Wave(Email 19 Declassification): 5 May 2014 Devon Archer wrote to Vadym Pozharskyi and [H]unter [B]iden to discuss the reasons why gas plans have been blocked
https://gnews.org/502564/
The Third Wave(Email 20 Declassification): 7/23/2015 Devon Archer's email to Vadim Pozharskyi asking for Norway trip travel details for [H]unter [B]iden so that the Secret Service can be notified
https://gnews.org/502649/
The Third Wave(Email 21 Declassification):4/17/2015 Vadym in Washington DC thanked [H]unter for introducing him to meet his father, the Vice President Joe Biden
https://gnews.org/502762/
The Third Wave(Email 22 Declassification):What is the relationship between Burisma founder Nikolai and [H]unter [B]iden?
https://gnews.org/502962/
The Third Wave(Email 23 Declassification):an expected meeting in Europe on May 7 or 9,2014 to discuss Burisma and a visit in Kiev
https://gnews.org/503429/
The Third Wave(Email 24 Declassification):6/7/2015 Joe Biden's Deputy counsel Alexander S. Mackler provided [H]unter [B]iden with the phone numbers of cabinet ministers attending the meeting
https://gnews.org/503470/
The Third Wave(Email 25 Declassification): 17/5/2014 Lawyer King wrote to [H]unter and others coaching them not to respond to inquiries and PR related questions from media
https://gnews.org/503804/
The Third Wave(Email 26 Declassification): 3/6/2019 How [H]unter [B]iden Transfers His Money
https://gnews.org/504650/
The Third Wave(Email 27 Declassification):Jim Biden wrote to [H]unter [B]iden asking if he is interested in deal with Mexican oil company Pemex
https://gnews.org/504848/
The Third Wave(Email 28 Declassification):3/5/2019 [H]unter [B]iden emailed Katie Dodge, his personal assistant regarding opening a new bank account
https://gnews.org/505582/
The Third Wave(Email 29 Declassification):21/4/2014 [H]unter [B]iden replied to Devon Archer regarding the Burisma and BHR China meeting and other issues
https://gnews.org/505819/
The Third Wave(Email 30 Declassification):3/26/2018 [H]unter [B]iden dissolved the "Hudson West LLC" after Ye Jianming "got trouble"; Jiaqi Bao emailed [H]unter to teach him money-making tricks
https://gnews.org/505943/
The Third Wave(Email 31 Declassification): 8/6/2015 Francis Person writes to [H]unter [B]iden again to discuss the exact dates of his upcoming trip to Haikou and Sanya in China's Hainan Province.
https://gnews.org/506425/
The Third Wave(Email 32 Declassification):4/21/2014 it was a series of emails back & forth between Devon Archer & [H]unter [B]iden in which various topics were discussed including Burisma engagement, investment in American & U.S. Ambassador to China
https://gnews.org/506556/
The Third Wave(Email 33 Declassification):12/20/2018 at [H]unter's request, Edward Prewitt wrote to Katie Dodge, Cynthia Duncan & copied [H]unter [B]iden, asking Katie to stop auto ACH payments
https://gnews.org/506491/
The Third Wave(Email 34 Declassification):5/29/2014 John Nevergole wrote to [H]unter [B]iden and Eric Schwerin for some potential gas opportunities in Africa.
https://gnews.org/508150/
What is the New Federal States of China?
https://www.foxbusiness.com/lifestyle/what-is-the-new-federal-state-of-china
Mr. Steve Bannon is the first person supporting the New Federal States of China. I guess you know his influence in US politics.

The Advanced NZ Party from New Zealand is the first party in the world supporting the New Federal States of China. Their Party leader Billy Te Kahika even joined our protesting activity in front of the China embassy on 1st Oct 2020 ( https://gnews.org/zh-hans/394203/).
More Videos:
https://www.youtube.com/channel/UC6K3m7kzxk5GXCkaUEP96kQ/videos
More News:
https://gnews.org/category/world-news/
https://apps.apple.com/us/app/g-news/id1499944963
Regards
Mina (From New Federate State of China)
______________________________________________________
A Reminder about [J]oe [B]iden and Seal Team 6 || Anonymous (Reader)
Reader Post | By Anonymous During WW2 our submarines could dive to a depth of 350 feet. The Japanese believed around 150 feet was their d… X22 Report — Episode 2109: Witnessing the Transition, No Report, Just Indictments(OpDis) William Barr's Handling of Spygate will Determine his Legacy — Patrick J. McShayClinton-Pelosi Democrats Cower while Populist Revolution Sweeps the Globe — Sorcha Faal
Reader Post | By Anonymous
During WW2 our submarines could dive to a depth of 350 feet.
The Japanese believed around 150 feet was their depth limit and would set their depth charges to that depth or less Then a US Congressman, Andrew May, visited Pearl Harbor and when he got home told the media "our subs can dive to 350 feet".

Most of the subs we lost during WW2 were lost after the senator shot his mouth off.

http://www.ww2pacific.com/congmay.html

Moving forward to current times, read this and never forget this about Joe [B]iden:
When [B]iden was the Vice President, he did the most unthinkable thing for a man in his position. He revealed the names and the unit that killed Bin Laden.
"On May 3 2011, at a national event in Washington, Vice President Joseph R. [B]iden Jr. did the unthinkable – He publicly revealed the identity of the special-operations unit responsible for bin Laden's killing, just to show that he "IS IN THE KNOW". His reckless action put at risk the lives of every member of Seal Team 6.

The Taliban and other jihadists eager to avenge bin Laden now knew which unit to target.

Stunned and shocked, Seal Team Six members immediately realized they were going to be hunted by al Qaeda sympathizers.
Soon after [B]iden's reckless idiotic speech, an American CH47 Chinook was shot down by a rocket propelled grenade in the Tangi Valley, Maidan Wardak Province, Afghanistan, all 38 aboard were killed including most if not all of Seal Team Six, this incident became known as Extortion 17.
After [B]iden had let the identification out, and before the Chinook was shot down, members of Seal Team 6 had called their families and told them to wipe out all connection to them, including social media, and disassociate themselves as far away from them as possible because they too would be in grave danger as the Taliban would attempt to find them in retaliation.
It is easy enough to look up the information yourself as well.

Speak Out After Joe Biden Outed SEAL Team 6 – Billy and Karen Vaughn

https://www.youtube.com/embed/lMA1T9QWEI4
Joe revealed the names, and signed the death warrants of America's finest warriors and never looked back.
Biden is not worthy of consideration as our President and Commander-in-Chief!!!

Wake up – let everyone be made aware of this piece of history and reject him at every level!
You can learn more about the consequences of the Obama/Biden & military officers betrayal by reading:
https://www.amazon.com/Betrayed-Shocking-Story-Extortion-Father/dp/1493653334______________________________________________________
https://operationdisclosure1.blogspot.com/2020/11/a-reminder-about-joe-biden-and-seal.html
Video: Thrilling Juan O'Savin (JFK?) on The Next 60 Days of Chaos! Awesome! (Decoded by Kat)
Source: Dinar Chronicles | By Kat I found this extraordinary Juan O'Savin and VGuerrilla video chat posted by Kauilapele on his KpBlog.spac… Debate: Bide_n Speechless || Sierra (NZ)(Reader | Jacob) Q Decode: RBG, Mickey Clock, Q Post 1082Charlie Ward and Gene Decode: Alliance Victorious, Wondrous World Incoming (Partially Transcribed by Kat)
Source: Dinar Chronicles | By Kat
I found this extraordinary Juan O'Savin and VGuerrilla video chat posted by Kauilapele on his KpBlog.space.
I always like to check on what KP is up to because information he finds interesting is usually what I find interesting too.
In a video with Rice Crypto that I transcribed on 10-14-20, Charlie Freak said that he believed Juan O'Savin is JFK, Jr. This is what he said:
45:31 Charlie Freak:…. Juan O Savin… 1-0-7… in Gematria the zero doesn't count so it's 1-7, which is 17, which is the letter Q, 17th letter of the alphabet… so Juan O Savin, imo without a doubt, is JFK Jr…
KP wrote this on his blog: One Twitter person (@CarrieKohan) posted: "Frank Dunn wrote as a comment: 107 = 17; JUAN = 10+21+1+14 = 46, 4+6 = 10 = J; O = 15, 1+5 = 6 = F; SAVIN = 19+1+22+9+14 = 65. 6+5 = 11 = K… Therefore: Juan O Savin = JFK"

Juan O'Savin has written a book and they discuss it in the first 20 minutes of the video:
The line underneath the Book's Title is: "We've all been bystanders watching events go by, not understanding their true meaning."
That is for sure. I want to read this book.
I don't know WHO Juan O'Savin is but he is fascinating and his information is essential for everyone right now, very important, so I transcribed the chat.
Mr. O'Savin is a dramatic storyteller so if you can listen to the video, I recommend it. I feel he comes from the same era I come from, the Art of Conversation era.
It made me think of President Kennedy's Press Conferences. Those vids are a hoot. President Kennedy was such a wit and he came out of a time when being that and a sparkling conversationalist was highly and rightly valued.
_______________________
The Wit of JFK
It feels to me like Juan O'Savin comes from that same era of scintillating conversation and in this video, his grasp on events is dazzling. Whoever he is, he is for sure "inside the walls of power" as Charlie Ward likes to put it.
Juan O'Savin is so clear on what is happening and what is to come that he lifts facts to the next level — into poetic expression. If he is JFK, Jr., he got that ability from his Dad. But I don't know who he actually is, just that he's engrossing to listen to.
As to what is coming, according to Juan O'Savin? Holy Mother of God. Judgement day. O'Savin said that [t]rea*sonous and [s]edi*tious criminals will be safer in Gitmo than on the streets once the truth about what they have done is known.
For those who are disappointed that what Gene Decode predicted did not come to pass in October—which was the public arrests of [B]id*en, [H]il*lary and [B]ren*nan for the murder of SEAL Team Six—don't be.
I believe Gene Decode's facts are correct, it's just that his timing was off. No biggie. No one's timing has been right in WWIII. I think of events now as "fluid."
Q, POTUS and the mighty Alliance are GENIUS 12D Galactic Chess Players. They have a plan that they've carried out with Military precision. I trust them and I believe Q when he says "Buckle up." When you hear what Mr. O'Savin has to say, you'll understand why. It's explosive.
On a personal note: Stefan, you've ALWAYS spoken in the 5D+ Language of Light. And E-J, thank you, once again, for a gorgeous post. I see it and you see it—a Divine Pristine New World. Bless you.
And LB – what a beautiful blog. Thank you so much. I'm so NOT giving up. I crashed for a few hours but was restored with prayers and found my way back to the light and then was lifted even higher by IDC Angels.
Get ready for Juan O'Savin. It's a WOWZA'
With blessings of Peace, Health, Happiness, Abundance and Truth for all — We are Goddess, Sovereign, Free,
xo, Kat
____________________
Juan O'Savin: Cracking The Chaos, 60 Days Of Crisis 10-27-20
Rogue News with Juan O'Savin and VGuerrilla
Partially transcribed by Kat
23:51 Juan O'Savin:This magic act that we see going on around us…
23:56 While most of the Media, most of the Politicians, most of the world… has been of the mindset that everything was going to come out of the [(H)unt*er (B)i*den] laptops… the information that the FBI had and didn't do anything with it… that Wray sat on… [Christopher Wray, Dir. FBI since '17]… to the detriment of the Democratic Party…
23:25 If they want to get mad at anybody get mad at Wray… who sat on this evidence that would have forced the Democratic Party to field a candidate that wasn't crooked and corrupt and everything else…
24:32 By not doing a proper investigation letting everybody know something was wrong… you want to get mad? Don't get mad at President Trump… don't get mad at Republicans… don't get mad at anybody but the Prosecution… Barr, Wray… including Haspel over at the CIA… [Gina Haspel, Dir. of CIA since '18]…
24:55 Who didn't bring facts, hard and fast, that forced the Democratic Party to field a candidate that wouldn't get out-exposed at this critical moment in history… they're the ones that are the problem… not Republicans…
25:20 Picture this V… when the laptop stuff came out… and we became aware of that here in the U.S… the reality is we've gotten some pretty soft-side stuff released in the Press here, comparatively… and like a magic act… this is all this fluff and glitter and flash and everything else…
25:45 How does a Magician work? A Magician stands there center stage… suddenly with one hand he's doing moving it around and doing something flashy with ribbons and scarves and the hat and everything else… and with his other hand… he's doing something out of sight you don't quite see… as he flicks his hand and it draws your attention to that exactly at that moment…
26:19 If you watch an audience from behind the stage… and their eyes are watching that movement on the stage… just like a tennis ball in a tennis match and the heads going back and forth… the Magician who knows what he's doing… will have the flash, the bang, the smoke at exactly the right moment and THAT's the instant… as quick as the blink of an eye… his hand has done some motion… his foot has done some motion… his body has wiggled something to go down his sleeve at that critical moment…
26:54 Then a second later… on the opposite side of the stage… a pretty girl goes marching off with feathers off the backside of her head… and the plumage and the flashy skirt… so you're watching the flash and the dance and the glitter and the smoke…

27:15 You don't actually see where the real action is taking place… then suddenly KA-BLAAAAAM out of the hat comes the rabbit… KA-BLAAAAAM some magical thing happens and something gets sawed in half or whatever…
But you didn't catch the sleight of hand or the trickery to be able to do it…
27:38 The President…
and the people around President Trump…
have been doing a type of theatre…
a show…
27:51 While you're thinking the laptop here was the whole story… that's where the real story is… and that's also where the Media was parked… in trying to block and assist in blocking… not letting Facebook and youtube and Twitter comment on [H]un*ter [B]id*en and the laptop… and that whole drama and shutting you up… what happened?
28:11 Battleships, Aircraft Carriers, that were not allowed to get close to the story are half a world away… you didn't even necessarily hear the canons going off… as their BAM!!
A huge blast and out over the horizon… out into the edge of space and it comes back in… it comes back in a Volkswagen sized round, mortar, coming in on these Democratic targets… all across the country…
28:59 If you've ever been on a Battleship, when it fires off those canons… those main guns… you can't even be on the deck because the vacuum behind that shell leaving as it goes out into space at Mock 3 or 4 it'll suck you right off the deck of the ship… you've gotta be inside the ship with the doors levered closed… and every window in the ship… this huge monster shakes and you can feel the whole ship rumble… it's an amazing thing…
29:44 The concussive waves when it's launched are one thing… but imagine on being on the receiving end of that kind of shock and awe… a whole roll of Battleships firing off rounds… headed inland, 70, 80, 100 miles to targets…
30:14 But it's just [H}un*ter… (laughter)… it's just [H]un*ter… with a prostitute or a girl or a President's daughter or whatever… yeah, but it's traveling at Mock 3 before the election… hello…
31:56 So, what we have here… the images you're seeing coming out of Taiwan aren't coming out of [H]un*ter's laptop… they've [the ca_bal] shut down the flow of stuff too deep because… "oh it's part of the legal process… and it's Trump's attorney Giuliani… we're still trying to sort out the information"… how come Taiwan is where all this information is coming from?
32:23 Because Mainland China… Xi… that whole deep state over there [the CCP] has been attacking our country… attacking President Trump… funneling money into all of our Universities… they don't want Conservative guys to have a platform… they don't want Conservative people to do anything… we're a threat… no we don't need current members of the Administration to present policy statements around our campus…
33:22 It's why are your kids are getting mis-educated and coming out Mar*xists and Leftists… it's money out of China… that are causing the Professors… to take the money… the money that's running the Universities… the bit in the mouth for these departments is this Foreign Money… they're not thinking America cuz the money is not coming from America…
33:57 They're trying to twist where this huge horsepower machine that we call America is going… and they're twisting us around and it's starting at the Universities….
34:10 So what's happened is you have an Ex-Pat group… even though Taiwan's supposed to be brought back into China… what's really happening?…
There's a contingent of Taiwanese who have said no, and he*ll no, and "f" you… we're not going to be part of Mainland China and your whole ev*il regime… and BTW, you're not going to charge any of our citizens with crimes and then take 'em back to Mainland China to try them and sent them off to some gulag… we're going to protect our citizens…

34:42 So… we're out there with our [U.S.] Military essentially setting up a picket line to block and guard Taiwan… and forcing the Chinese to play fair and be nice and let the Taiwanese people express the desire and need to be autonomous from Mainland China and no… they're not going to be incorporated back into China… they'll be neighbors, friends, but they won't be under their thumb…
35:15 So what's part of that process… exposing the de*ep state in China for what it is… what they're involved in…
35:26 What was going on in Mainland China? THEY WERE THE ONES SPYING ON [H]UNTER… they were the ones getting the videos to blackmail… to blackmail… they had it all…
How did it end up in Taiwan?
35:40 Because you have Taiwanese people and you have Chinese Nationals who have gone into a form of exile in Taiwan… and they're providing it to you… they're showing you what's going on in China…they're showing you what they [CCP] were trying to do and blackmail the Democrat Order that's taken control of our country…
36:05 And so what are they doing from Taiwan? Like a Battleship on the other side of the planet they're lobbying rounds across the sea, out into outer space, and back in and they're landing DEAD FU*CK*ING CENTER OF THE DEMOCRATIC OPERATIONS…
36:27 The Senators they're paying off…
the House members they're paying off…
the University affiliations that they're controlling
and paying off into all those departments…
round
after round
after round…
36:45 You are watching the beginning salvo of SHOCK and AWE…
36:47 And BTW every time a round hits the ground… a spotter's going, "oh, yeah actually, 400 meters West and 100 meters North please… and let her go!"… (big laughter)…
37:10 We're going to walk these rounds right in on every target…
37:12 Do you realize… that it's not really just about [J]oe [B]i*den and his campaign to run for President… it's allllll the camp around him…
These rounds aren't just hitting the [B]iden campaign…

IT'S THE MONEY BEHIND HIM…

IT'S THE HOLLYWOOD BEHIND HIM…

IT'S THE NEWSPEOPLE BEHIND HIM…

IT'S THE UNIVERSITY SYSTEM BEHIND HIM…
37:38 VGuerrilla: All of it!
37:40 Juan O'Savin: ALLLLLL of those locations are receiving rounds right now…. where was all this money in M.I.T. coming from?
37:48 VGuerrilla: China…
_____________________
Kat note: Director of M.I.T.'s Media Lab Resigns After Taking Money from Jeff*rey Ep*stein
https://www.nytimes.com/2019/09/07/business/mit-media-lab-jeffrey-epstein-joichi-ito.html_____________________
37:50 Juan O'Savin: How come M.I.T.'s gone off the rails on a bunch of stuff including…
How come Aaron Swartz ended up committing suicide allegedly? What was he doing up there in the utility closet trying to download material? It wasn't the Cambridge Library… it was the child por*nogra*phy out of Cam*bodia… OK?
_____________________
Kat note: Aaron Hillel Swartz
https://en.wikipedia.org/wiki/Aaron_Swartz_____________________
38:11 VGuerrilla: Which has links to NXI*VM… and Keith Raniere [who was sentenced to 120 years in prison on 10-27-20]…
38:15 Juan O'Savin:It's everywhere… every scandal, every time you turn around, whether it's [H]unter, [E]ps*tein, NXI*VM… the one we haven't heard yet that's coming… Sanctum… believe me…
38:33 VGuerrilla: You heard it here first, folks… Sanctum…
38:37 Juan O'Savin: That's right… Bill Ma*her is going to be dead in the center of the sights… people are going to want to find a rock to hide under and there might not be a hole deep enough for all the revelations that are coming…
Kat note: One more time, I bow to Colleen and Charlie Freak for their EXTRAORDINARY accurate research into the Q-Plan and the Takedown of the Ca_bal. This is what they said:
On the GEORGE Cover… "Bill Gates Talks to John Kennedy About Murdoch, Money, And World Domination…" and "Can politically incorrect Bill Maher make it in the big time?"…
1:57:41 Colleen: Bill Ma*her is one of the people that is going to be going down… he's one of the most very evi*l people… he wears red shoes… if you know anything about the "red shoe club" and the Pope also wears red shoes… and the horrible story about that is that it's made from Human skin…
1:57:59 Charlie: Yes. Bill Ma*her is part of the Red Shoe Club…
______
Kat note: I would like to take this moment to correct what I had earlier written. I said Colleen and Charlie were connected to Q-Team. They are not. Charlie Freak has lately emphasized that.
What Charlie said is that the Q-Social Media-super-agents have contacted them and given them thumbs up, or steered them in a certain direction, but they have ZERO contact with Q or Trump or their closely knit families.
"Video: Who is Q? The Genius Q-Plan Explained (Part 2)" by Kat – 8.22.20
_____________________
38:48: Juan O'Savin cont.: The point here, V, is this… now that the salvo was started… just like Shock and Awe… remember the first time we went in on the Gulf War thing?… [GHWBush's Persian Gulf War 1-16-91]…
38:58 It was 40-days of bombing… It wasn't a couple of hours… it was endless for 40 days…
39:06 Those people, before it was over… long before it was over a lot of those troops were setting down their arms and just walking away… they couldn't take it…
39:24 It so disturbed them, it was so upsetting, that they had to walk away from their defensive positions because it was so scary…
39:34 Those rounds… those mortars… that canon is so great… those Aircraft coming in and dropping the bombs… they couldn't take it… they just had to get up and walk away…
39:49 Juan O'Savin cont.: That's what's happening in the DNC camps… and the revelations even after the Election… aren't slowing down…
39:54 When people find out
what's being done in their name…
what's been happening here in our country…
around them right under their noses…
40:04 They're going to be so livid…
that these people are going to have to be picked up
to keep 'em from getting strung up…

40:15 Gitmo won't be because they just have to go there and do their term… Gitmo will be the only place they'll be safe… they won't be safe here in the mainland [of the USA]… OK?
40:28 Juan O'Savin cont.:Because of the [t]re*ason…
And, those people who want to protest after the election? Sedition…
40:35 Excuse me… if you're trying to overturn the Government, overturn the results of the loss of Election, and you're involved in Sedition?… you don't go away at a nice plush Federal prison… you go to a Military prison…
40:52 BTW, you don't get off for good behavior… if you want to not behave good… you go into Solitary for a period of time… you get trussed up and they put you in a corner for a time out for a week… the long and the short of it is… if these people think that So*ros money is just going to bail 'em out of jail that night… what HAS been happening isn't what's GONNA happen…
41:16 So you need to really think which side you want to be on… just how deep you're already in… whether you want to double-down on that… or check out of your plush hotel… get in the car and drive away before everybody starts getting picked up…
41:37 Juan O'Savin cont.: The problem for most people here right now, is this…
I just got off the phone earlier today on an important conference call… real power players that have had real histories in governance in our country… and in the Military in our country…
42:00 The point is that they themselves… as close as they are to what's happening… are failing to grasp the magnitude… expansiveness… of what's about to happen in the country… mere hours away…
42:22 In a thousand years… what's about to happen hasn't happened before in recent memory…
YOU'VE NEVER EVER EVER
SEEN ANYTHING LIKE
WHAT'S ABOUT TO HAPPEN…
42:42 This orchestration to prepare everything for this moment… it's just right there about to take place… IT'S GONNA BE STUNNING… IT'S GONNA BE AMAZING…
42:59 And those people who think that the next 4 years are gonna be anything like the last 4… or 10 or 20… WAKE UP…
43:08 YOU HAVE NO I—D—EA…
YOU HAVE NO F*U*CK*ING IDEA WHAT'S ABOUT TO HAPPEN…
IT'S GOING TO BE STUNNING
AT A LEVEL THAT MOST PEOPLE CANNOT EVEN BEGIN TO GRASP…
43:25 Juan O'Savin cont.:Because they're in sleep-walk mode… OK?
43:34 It's not even all waiting necessarily for Election Day… a lot of people think it's just waiting for Election Day… and THEN we're going to take action on Wray… THEN we're going to take action on Haspel… THEN we're going to take action on a couple of key arrests…
43:42 Might get a surprise in there… because… many of your listeners probably haven't even recognized or heard but there's a certain amount of them have and they're screaming bloody m*ur*der… but they're out there…
44:00 On the same day when Betsey DeVos [Sec. of Education]… released the report showing where all these BILLIONS and BILLIONS and BILLIONS are coming from… that are twisting the way our Education system works towards a Communist mindset… a Marxist mindset… by these offshore people who want America dysfunctional…

44:26 Thinking crazy… and all the Green talk… like shutting down America is good for Americans… shut our country down… and leave all the other countries in the world going… you know, de-industrialize America, let us starve to death, and do all the work someplace else where these Globalists control it… [the dee*p state / ca*bal]…
44:44 Juan O'Savin cont.: It's not that the work's going to stop… not that the mining or the oil or the Industry is gonna stop… they're just moving it someplace they control better… anywhere but America… shutting down America and paying American companies to export their operations to other countries and make them wealthy… not the people wealthy…
45:10 cuz they're gonna run a slave-labor race and that's what they've been doing all along… they make all the money outside of our tax system… it's their little game… their Global-ista game…
45:25 The thing is, that's not what this Administration is about… moving stuff back home… moving energy production back home… being America-centric… getting control of our schools and Universities…
43:35 Juan O'Savin cont.: So one of the areas though, that's a real problem, in this dysfunctionality of America… has been a large component of the work force who feels that they should just go ahead and operate whatever way they want to operate… they've got a Federal job and have all these Federal protections… and they don't have to operate like you would in a normal work environment…
46:03 somehow insulated, isolated and protected and they get to choose how they want to obey or do things and orders like that… think Leftists… nobody can fire them… it's like Professors that are vested in the University because they've got a chair…
46:30 Well the long and the short of it is the President just issued an Executive Order that's going to be given a certain amount of time to play out but on January 19th all of that conversation's over with…
46:43 What's it amount to? That he pretty much can fire any Federal employee he wants to down through the ranks… for just about any reason he wants to…
47:16 We could probably lose, and I think that's part of the plan… probably lose 20% of the Federal workforce in the next year or two… and start making these positions perform at a more optimal level… closer to what's expected in the general workforce in the civilian side… start to tighten things up…
47:31 That's not something that these Federal workers are excited about… and I will tell you this, V… that is a constituency that is never going to vote for Trump… the few that are are rare… they'll be targeted… they will find a reason to fire those people…
48:00 The reality is the President has just targeted one of the strongholds of the Democratic Committee and Party… because that was this de*ep state… that anything that happens, that's their constituency… they own the Federal operations… and they VOTE Democrat because it protects them no matter what…
48:25 Juan O'Savin cont.: That just got directly targeted… precisely targeted… by laser guided weapons… and it just hit them with a round… that's going into all these various agencies… letting them know… straighten up and fly right or hit the road…
And BTW, with your work expertise your way of operating, the real world might not be a very friendly place for you either because the expectation won't be for the level of performance you've done in the past.. operating with a good 'ol boy mentality… and attitude… and this mutual self-promotion… that's not based on true merit… but a secret club… get your furry mitts of our country with all your other BS…
49:42 When he issued this order last week… that was one of the gutsiest moves I can remember in this whole entire Presidency… to take that shot before the Election… and let the American people know, no I'm not waiting until after the Election to take that shot… he is letting the American people know where he stands… what his direction is… what his plan is moving forward… you understand?
50:22 He let everybody know what's coming… Look "you're fired!!"… that's what it's about… you don't want to perform right, you can't figure it out, you're not cutting it? Outta here… we'll hire somebody else…
50:45 I was talking to somebody the other day and this is somebody who has direct contact with the President… and he says, "You know, the President can't trust 99% of the people around him" !!… that sounds horrible… it is truly horrible… even the First Lady… with people around them…
Everyone's looking for a chance to sell out to a Tabloid or a book to feather their nest… at the President's expense… at the country's expense… anything to make him look bad… they're just looking for their pay day… so it's been very hard but I don't think that's going to last…
51:48 Like a mob movie… like The Godfather… well where's the betrayer come from? Right in your nest. Right around you. Even in your own family…
51:53 Juan O'Savin cont.: So you can't trust anything to anybody… but the President is a pretty savvy guy… and the Military Intelligence people that are orchestrating this behind the scenes… hat's off to every last one of 'em…
52:11 They've understood the depth of the problem…
And the close in nature of the infiltration that has happened inside pf this Administration carried over from prior Administrations… every last possible way that they could try to protect themselves against this President out into the future…
_____________________
"For we are opposed around the world by a monolithic and ruthless conspiracy that relies primarily on covert means for expanding its sphere of influence—on infiltration instead of invasion, on subversion instead of elections, on intimidation instead of free choice, on guerrillas by night instead of armies by day."
President John F. Kennedy, April 27, 1961
https://www.jfklibrary.org/archives/other-resources/john-f-kennedy-speeches/american-newspaper-publishers-association-19610427
_____________________

52:39 Juan O'Savin cont.: You know they had to go through the White House and clear it of thing… sneaky little things… that were even deadly threats… before they could occupy the White House… including de_mons… cuz Melania wouldn't move in there until they had 2 exorcisms of the White House… and then the President Tweeted "sa*tan has been evicted from the White House."… at every level the attacks are going on Spiritual, physical people present in the advisories, etc…. but all of that… that was then.. this is now…
53:26 We are about to see Shock and Awe…
Volkswagens at Mock 3
coming in the lower atmosphere, OK?
These things are going to change the whole game…
53:44 I don't actually think after the mid-term elections… this is my prediction you can come back and see if I was right or not… I don't think the Democratic Party as we know it… and a huge portion of the Republican Party… listen to me… a huge portion of the Republican party survive this next couple of years and the mid-term elections…
54:12 Because they're going to be so decimated…
by the revelations…
of [T]reason…
and Graft…
and Per*version…
54:32 Juan O'Savin cont.:That they will be finding deeper holes… the DUMBs… they won't be deep enough to protect these people from the revelations that are coming… and what the American people are going to learn… and the world…
54:48 And you're going to have to pick a lane… good or ev*il… right or wrong… Heaven or he*ll… and a lot of these people have already made their bones…
55:04 Juan O'Savin cont.: They've already sworn their blood oaths… they're already in another camp… they're headed in another direction…
55:09 In this magic act… that's going on right now… the President is being aided by the very people that they thought they'd wiped out… these offshore locations that are secure from the Wester media… from the fake lying media… they can't control what's coming in… the access people are having…
55:34 And, BTW, China… with real people with real information… those spy cam pictures that's stuff that was planted there… that's not even the stuff that's on [H]unter's laptop…
55:50 Do you realize that people put their life on the line to get that material out? To a location where it could be distributed?…
55:55 If the Chinese leadership could get their hands on those people this second they would wipe them out… and bury them in the deepest trench in the ocean… to shut them up…
56:10 And you're getting help by people that are seeking Independence… Freedom in their country… based on the ideals that we received from our Founding Fathers here and that we're headed back to right now, today, with the actions taking place over the next several days… as the beginning salvo to take back our country…
56:38 Juan O'Savin cont.: But… and this is where it has to get real for people… don't think that on November 3 or 4th it's all over… it's happy days again… and going back to normal.. and the Democrats are going to have to shut up… it's not just the Democrats… you've got traitors inside the Republican party too…
57:09 I believe what you're going to see happen is this, and it's been telegraphed pretty widely… I'm only saying what you've been told but you may not have grasped it…
57:48 We're going to have this VOTE on the 3rd… it's already obvious… look the [B]i*den offices all across the country it's like a mortuary… best guess they might have 100 people in the whole country to man the phones… at the end of the day, so many people have walked away…
58:52 When you go knock on the door of a Democratic family and ask if they're going to vote for [B]i*den they're like, "Get out of here… I'm not going to vote for a mobster… I'm not going to vote for a crime family…"
59:00 This guy told me his neighbor was out the other day with a razor blade cutting the [B]i*den sticker off his car… (laughter)
59:19 VGuerrilla: You know the #1 search term on Goo*gle right now, Juan, is "Can I change my vote?" (laughter)…
59:35 Juan O'Savin: In this environment here, that's a stunning thing… it tells you where this is going… you don't even know right now how bad this is going to be…
1:00:07 Look, some of the stuff that's coming out is so horrendous… I use that term precisely… that people who would never be ashamed to say 'I'm a Democrat' in any crowd… and stick their nose in the air and push their chest out… they're going to be looking for rocks to hide under in embarrassment that they've ever associate themselves with this criminal ev*il ca*bal… that's taken control of our country…
1:00:42 So at this point… we just have to own our ground… no, we're going to take our country back… we have to be ready to take positions of authority of our country…
1:01:20 What the Democrats want to do… what this ca*bal intend to do… is to raise so much question and concern about the legitimacy of the vote… they have 600 attorneys… they're not going to walk away they're getting paid… they're going to put the outcome of the election into question… and then what's going to happen…
1:02:16 The day after the election it's very clear President Trump hasn't just won, he ran the table… what you're gonna have is these paid for agitators, Marx*ists, criminals that are being put up in expensive hotels… Qatar and china paid, they are on the Soro*s payroll… and these other people's payroll trying to take down this lawful American government and this President against American interest… against us…
104:12 Juan O'Savin cont.: Only thing is, we already know who they are… we've got videos of all the crimes they're involved in… they want to do their protests? This time it won't be the same as before… they do their little drama on the 4th? In a matter of hours or days they're going to be picked up…
104:33 And BTW, the election's over, we won… SEDITION… you're an American citizen that's SEDITION… you're from a Foreign country and you got sent in here… and you're carrying a little communication device around… you're going to Gitmo… you'll be living in a FEMA barge at Gitmo… you're going to act like a terrorist here… watch what happens… you're going to Gitmo…
1:05:29 So what's going to happen here, V, is that then there will be all this drama… we can't certify the election… what Nancy Pelosi has told you "I'm going to be President when this is over"… because the House has the authority to vote an interim President… Nancy Pelosi believe they can put the outcome to such a level is they can take control…
1:06: 40 But the one thing you have to remember.. is from November 4th to January 20th at Noon 2021… Donald John Trump will remain President of the United States of America…

1:07:04 If you think they're going to take him out by any legal action?… You're wrong… the President has already shown you he's like a bull in a china factory…
109:40 Juan O'Savin cont.: Listen… the reality is… it's going to be a lot of drama… it's going to be epic… it's going to be gut-wrenching… there's a lot of ho*r*rors that are going to be presented also… and we have to be measured about that…
1:10:15 I don't take any delight at all in the revelations about [H]unter and his personal tragedies… or the [O]bama daughters and the drugs…

1:10:20 The reality is, just like with the girls, they were put in a situation from birth… they're not Michael's children… they're from another couple that were medical people… and placed in that situation for the illusion that Michael [Michelle] is a woman… and that this is a normal couple with children… that's all BS… I talked about that long before [O]bama was the nominee… and those talks unfortunately went up through the ranks… even in Hollywood… Joan Rivers…
1:11:15 Juan O'Savin cont.: The long and the short of it is, we are looking at these people who are peripheral… they're Volkswagens… they're being fired off as rounds into this community to take 'em out… I would include those people in my prayers… honestly… they're victims because they couldn't control where they were placed as children… very very sad, including [H]unter… he should never have been put in the situations he was put in… he already showed that he was vulnerable… and the people around him didn't help him…
1:12:13 The other side of the coin as much as I feel bad about it, the country's stake is on the line…
[Tells a story]
1:15:42 Yes… we're looking at a lot of these monsters that are around us here… a lot of these monsters that are around us right now, we have to take out… a lot of these people… they might look innocent… it's like Old Yeller, the movie, where the dog that everybody loves, and then suddenly he gets rabies…
1:16:45 The Democratic Party has rabies at this point in time… they're rabid… the infection came out of China… didn't come out of Russia… and they're hooked on the money the graft… they've become the mob… they're entrenched in our government… entrenched in every operation of the political process… and excuse me… some of the Republicans have the same disease… and they're just as rabid, just as dangerous… maybe more imbedded…
1:17:28 Be diligent… focused… to get through this election… and then understand… that there's a whole theatre of activities that are about to happen and that will continue to happen right out to the end of the year… all the way up to January 20th… and maybe even beyond… because as these revelations happen… what's going to happen inside the Democratic Party and the Republican Party…
1:17:56 Where their money's coming from…
what secrets they've sold out and given away and worked a deal over…
how they've been compromised…
There's gonna be a whole bunch of players that are gonna be taken off the table for legal reasons… Federal prosecutions… Gitmo prosecutions… and Special Elections… that are going to have to be done to get the country back on track…
1:20:01 The salvos have already started… the softening up of the world of our environment here… it's not going to lighten up with the election… it's going to go even faster and harder after the election…
1:20:90 40 days and 40 nights of Shock and Awe…
1:20:27 Then we've got 209k sealed indictments… sitting there waiting to be served… every one of them can have one to 99 names on it… the largest number 160% of what has ever existed before as a running average in the Federal Judicial System… the 94 Judicial districts…
1:20:55 Two hundred and nine thousand indictments waiting to be served… they're not going away… and after the election… those people that were involved in Bullfrog (? sp)… they're going to be picked up… across the board…
1:21:25 It's not just winning this election… not just winning this battle of the election… it's winning the war…
1:22:17 Those of you who understand what's really at stake you need to be praying for the President… praying for his family… and praying for all his advisors through all of these crisis that are coming…the people that work there in the White House that support the President from day to day… very serious dramas are taking place and they will escalate not lessen over the next weeks and months… it is going to be steady at the wheel…
1:23:01 You're going to be in a storm that you can't believe… and we're still firing those Volkswagens over and over and over and over and over…
1:23:06 So relax… buckle up… be ready… don't be a hand wringer… don't let the other camp get you confused about where you're at… don't let the Mainstream Media get you convinced that there is actually a Constitutional Crisis… cuz there really isn't a crisis…
1:23:26 Juan O'Savin cont.:This has all been planned… this has all been mapped… on super computers… the guys that have been backing the President have been playing out scenarios over and over and over… multiple variations a day… since the very beginning of this Presidency and beyond…
1:23:45 And they have understood… even the allowing the impeachment to go forward… we got that out of the way… now we control the courts… Roberts can't control where we're going with the court cuz we have a majority that outrides Roberts… so his vote's not going to matter…

1:24:40 I don't think Roberts is there in office 4 years from now… and probably sooner…
1:24:52 Juan O'Savin cont.: With that in mind, the direction the country's going to be radically different than most people can even conceive… don't listen to the siren song of the Mainstream Media… behind the scenes… this Administration has been working tirelessly… looking at all the options… the anticipate them… to be prepared… to get these other people exposed, out in the open, and then off the playing field…
1:25:38 Pieces on the chess board being taken out of play… and a chance to be shown what they are and their opinion doesn't matter… everybody take a deep breath… with this audience… there should be no question that we're doing fine… we're the ones firing the salvos… it's targeted near you but it's not you being targeted… just stay out of the way…
1:27:19 It's going to be epic… don't be in a fearful mode as these dramas unfold… and they're going to be epic dramas… and understand that at the end of the day… it's going to be great… we're going to take the country back… we're going to put the country back on track… be part of it… take a deep breath… and let's get the monsters…
1:28:27 VGuerrilla:…A lot of exciting things are going to happen with this Economic Reset…
1:28:39 Juan O'Savin: Well let me just add this, V… We have people over in China… look we're not going to be able to do business with Xi and his crowd… they were the ones behind the attempted take out of America as a power… the infiltration at every level… in politics, in business, in Hollywood, you know, CAA [Creative Artists Agency]… 51% is owned by China…
And controlling the Media… shutting down of America's ability to talk on a First Amendment basis in various Social Media places… Iran, Mexico, trying to control what's going on in our border… what has been allowed to happen… what has been happening… the President has consolidated power… it took 4 years to get to this point… a lot of these enemies are going to be exposed decisively… in Canada they'll see the criminality that's going on in their government.. down in Mexico same thing… [discussing weapons the USA has]…
1:31:38 Everybody take a deep breath… get in the right place mentally… knowing that these ground thumpers that you're going to feel shortly… not the end of the world… ultimately we're going to get through this… I don't wish that on anybody… but they deserve it and they're about to get it…
1:32:25 VGuerrilla: You pretty much covered the gambit… we don't want to give too much away there's a lot going on right now…
1:32:33 Juan O'Savin: The book… The Kid On The Side of the Road… the people who have already ordered the book will get an Email… they get first crack at the print version… there are some real surprises there… and I have something very special for people who have ordered the E-book… we're going to try and get it mailed out so all of them have the Election Day stamp on them… it's spectacularly beautiful… I appreciate everybody that wrote the E-book…
1:35:14 VGuerrilla:Folks, chaos is coming but let not your heart be troubled… as we go through this transition… amazing times are ahead…
_____________________
End Kat partial transcription

______________________________________________________
https://operationdisclosure1.blogspot.com/2020/11/video-thrilling-juan-osavin-jfk-on-next.html#more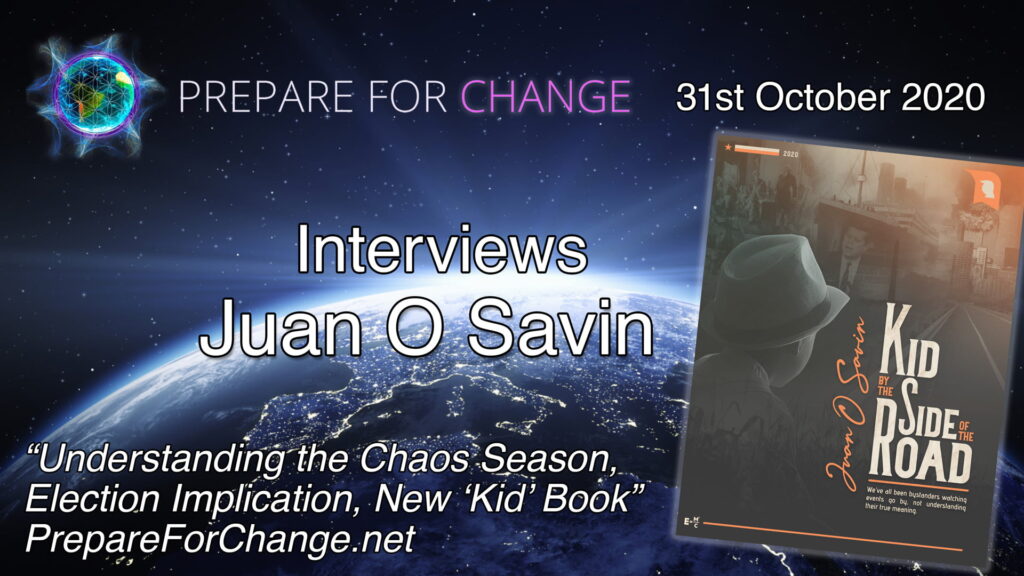 Juan O Savin Interview: Chaos Season, Election Implication, New "Kid" Book
Source: Prepare For Change | By Gerry Gomez October 31, 2020 Juan O Savin Interview – Chaos Season, Election Implication, New "Kid" Book Th… ShadowSuper Exopolitical Intel Report — June 14, 2019(Reader Post) GK: Said Before it Can't be SaidBrexit Pulls the EU to Pieces: The Great Awakening has Begun
Source: Prepare For Change | By Gerry Gomez
October 31, 2020
Juan O Savin Interview – Chaos Season, Election Implication, New "Kid" Book
This scary season kicks off today with plenty of Tom Foolery afoot among cabal minions. Intel provider Juan O Savin joins us for a vital conversation about the implications of the U.S elections, the origins of Halloween and how we manifest what we put our focus on. He tells us some stories from his new book "Kid by the Side of the Road" (available at gumroad.com and rapidly selling out!). He also provides an important lesson for members of the Prepare for Change audience regarding the essence of life.
For many followers of Juan, he covers current events and puts them into historical context with lively color that makes one feel as though he was there at events that occurred in the early stages of U.S. and world history. He shines a bright light on the occult and gets the spiders scattering.
The whole conversation which lasts nearly 3 hours is quite a treat!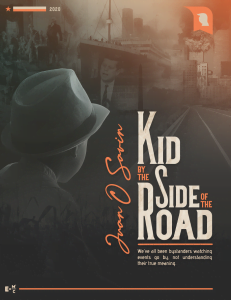 We present this information as part of our mission to present truth and raise the planet's consciousness. Keep on seeking the truth, rally your friends and family and expose as much disclosure as you can… every little bit helps add pressure on the powers that are no more.
Kid by the Side of the Road by Juan O Savin is available at: https://gumroad.com/l/kidbythesideoftheroad
Please visit Prepare for Change's Planned Chaos page for similar information and our video series that can be widely distributed at:
Planned Chaos All Assets Now Available – Zoom Call Sat
______________________________________________________
https://operationdisclosure1.blogspot.com/2020/11/video-thrilling-juan-osavin-jfk-on-next.html#more