FBI Document Dump From The Vault – The Finders
Posted by Centipede Nation Staff on October 25, 2019 6:48 pm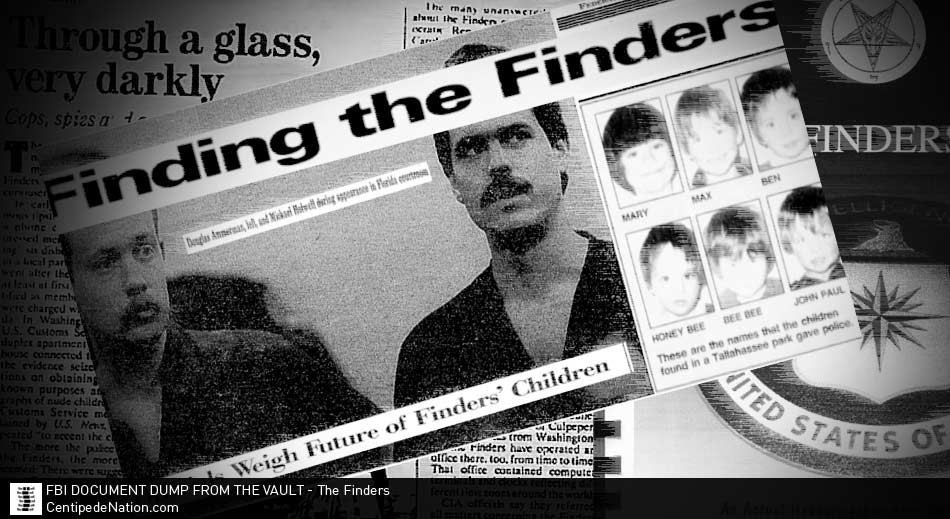 The "Finders" were a CIA Operation, often discribed as a 1960s-style commune, in reality they were a cult that conducted "brainwashing" and used children "in rituals." The FBI has now unsealed a 324 page document that details this operation and the US Intel Communities role in ritual child sexual abuse.
The FBI made the announcement of the declassified documents on twitter. We have scanned through much of the document and have included some interesting snippets below.
Highlights From The Finders Document Dump From The FBI Vault
[Redacted] After the imposition of prison sentences on both [redacted] became convinced that numerous other children had been abused and that the abuse was part of a large, well organized scheme. Subsequently, [redacted] has attempted to interest congressional members and the USCS in his efforts to enhance efforts in the area of child sexual abuse and investigating claims of organized sexual abuse.
During October 1993, [redacted] met with United States congressman Rose (Florida) to discuss allegations concerning a group know as "Finders" both congressman Rose and [redacted] subsequently provided information concerning these allegations to DOJ.
As a result of information developed during these arrests, the TPD contacted the Metropolitan Police Department (MPD), Washington, D.C., and provided information concerning [redacted] and their association with a group known as "Finders" based in Washington, D.C. On 2/5/87, The MPD executed search warrants, prepared by the United States Attorney's office, District of Columbia, Washington, D.C., On two properties owned by the "Finders" in Washington, D.C…
DOJ review of USCS documents indicates that during the execution of the search warrants by the MPD at the two "finders" properties, USCS SA [redacted] claims to have observed a substantial amount of computer equipment and documents purportedly containing instructions for obtaining children for unspecified purposes. The instructions allegedly included the impregnation of female members of the community, purchasing children, trading children and kidnapping them…
[Redacted] he stated, has maintained that there is a nationwide conspiracy among individuals involved in Satanic worship and sexual child abuse, with members being located in Stuart, Florida area. To date, Sergeant redacted advised he had located no hard evidence of any organized sexual abuse in the area, but noted there is similarity in sexual abuse cases that have occurred in different parts of the country.
Tunnels & Occult Symbolism
45 foot tunnel. 9 foot wide subterranean entrance found under west wall of the "Dog" room (Classroom 4 [redacted] classroom)… Tunnel proceeded south, then east 45 feet through Classrooms 4 and 3, and north, then east 10 feet within Classroom 4… Four large, upright containers were found in the tunnel under the arch, obviously hand placed. A 9 foot wide chamber was found along the tunnel under Classroom 4. Top of chamber and top of sections of the tunnel had layers of plywood covers with ta_ paper which has apparently been supported by cinder blocks and 2″ x 2″ and 2″ x 4″ wooden posts found underneath. Tunnel features made it evident that tunnel was hand dug.
7 Foot tunnel extending into the triplex next door. Tunnel extended from the bathrooms off the office and Classroom 1 to the front yard of the triplex next door… Children described entrance and exiting tunnel in triplex yard exactly where tunnel and exit were found. 1 39″ x 41″ area under a hole cut in this neighbor's bathroom floor had been excavated and subsequently filled.
Other significant facts. A small, white plastic plate with three pentagrams hand drawn on top of light green paint was found by the archaeologists in the stratified dirt in the play yard. Per historical archaeologists, pentagrams were hand drawn by an adult and not part of the manufacturer's design…
[…]
No doorknobs were on Classroom 3 door, only a dead bolt lock.
Each classroom had on off light switch labeled "Fire Alarm." System did not connect to fire station but was used as an alert within the school.
More than 2000 artifacts were found under the school floor, including over 100 animal bones.
Keeping It Secret
[Redacted] has alleged that The Finders are involved in a well organized child abuse scheme, and that [redacted] in conjunction with the state department, and the FBI's foreign counterintelligence section, conspired to cover up those abuses.
The F.B.I. has contact with the Finders since 1971 including a recent report dealing with the C.I.A. involvement with at least one of the members of the Finders passing information overseas concerning activities of the Central Intelligence Agency. When it became apparent that no Federal Laws were violated the F.B.I. vacated the investigation.
[Redacted] contacts MPD Intelligence and advises that all reports regarding Finders are to be classified at the Secret level. [Redacted] also advised that no information was to be turned over to the FBI WFO for investigation, and that the WFO would not be advised of the [redacted] involvement/contact.
US AG Declined Prosecution
On 6/14/93, The United States Attorney's office for the District of Columbia declined prosecution of this matter and this case was closed. WMFO contact with U.S. Custom Service, WDC, indicated that customs SA [redacted] will not be available for interview until Monday, 11/8/93. WMFO is scheduled to review the MPD file concerning "Finders" on 11/4/93. Investigation continues at WMFO.
This is an example of inter-departmental battles going on. Another good example of inter-departmental battles is the CIA sending a long-time worker, Snowden, to the NSA where he promptly had a change of heart and defected, exposing NSA shenanigans to the benefit of the CIA.
Though the FBI will never really admit officially that the CIA was involved, we can take a look into Former FBI Ted Gunderson's take on it.
Former FBI Chief Of Los Angeles, Ted Gunderson, Speaks On Pedo-Satanism, "The Finders", And The CIA's Involvement
Remember Ted Gunderson speech about Pedo-Saintanism and "The Finders"? Let us refresh your memory:
CIA Denies Ties To The The Finders
From the Associated Press on December 17, 1993:
The Justice Department said Friday it is investigating allegations the CIA used a ″front company″ run by a commune to train agency employees and that the CIA blocked investigation of the group. The CIA denied any ties to the commune, called the Finders.
[…]
The Washington Times reported Friday that the CIA had ties to the Finders, a Washington-based group once accused of engaging in Satanic rituals, child abuse and pornography. The charges were raised in the 1980s by law enforcement officials, but none resulted in prosecution.
CIA Ties To The Finders Do Exist
According to an article posted by US News and World Report, the group's leader, Marion David Pettie's late wife once worked for the agency and that his son worked for a CIA proprietary firm, Air America.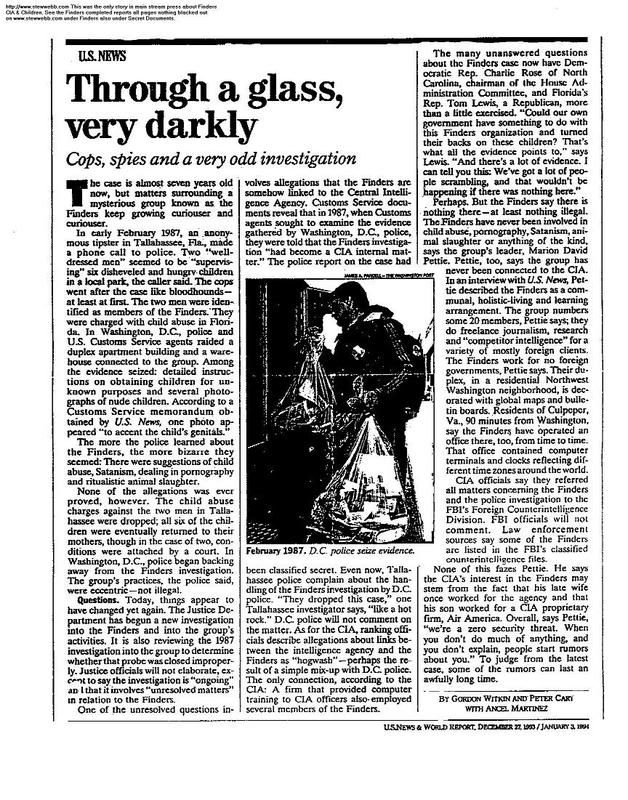 If you discover anything else, please leave a comment below and let us know your thoughts. And as always, God bless America and long live the republic. Where we go one, we go all.
https://operationdisclosure1.blogspot.com/2019/10/the-finders-fbi-document-dump-from.html
The Evidence Is Coming Out, People Knew, Why Did We Tolerate These Criminals:Harley Schlanger
https://inteldinarchronicles.blogspot.com/2019/10/x22-report-spotlight-evidence-is-coming.html
Galatic Update with Kent Dunn 10/20/2019
3.05K subscribers
Q and A with Kent Dunn. Would you consider supporting this channeling via WWW.paypal.com? Click Send, enter dhunter48951@hotmail.com Thank you.
b
THINGS

are about to

GET REAL

for AMERICA.
7,200

Jobs CUT At

CNN

,

Huffington Post, BuzzFeed

in 2019!!!