Why I don't normally purchase – fast food. Look how old this ad is. Tim's large coffee always – makes you pee 4 times.
DOES arsenic make you URINATE frequently? I know one coffee made me go 4 times – at least.
Haven't bought a TIM'S coffee in 4 years, THANK GOD !
Probably the arsenic? I heard from several people that TIM'S was poisoning coffee with arsenic ?
***Police are still investigating why more than two dozen people at Laval University were poisoned with arsenic. – From an older ad below
*********************************************************************************
Popular brands like Burger King and Popeyes, Sobeys and Metro get failing grades for amount of harmful substances in their products.
by Dave Yasvinski
Mar 30 2021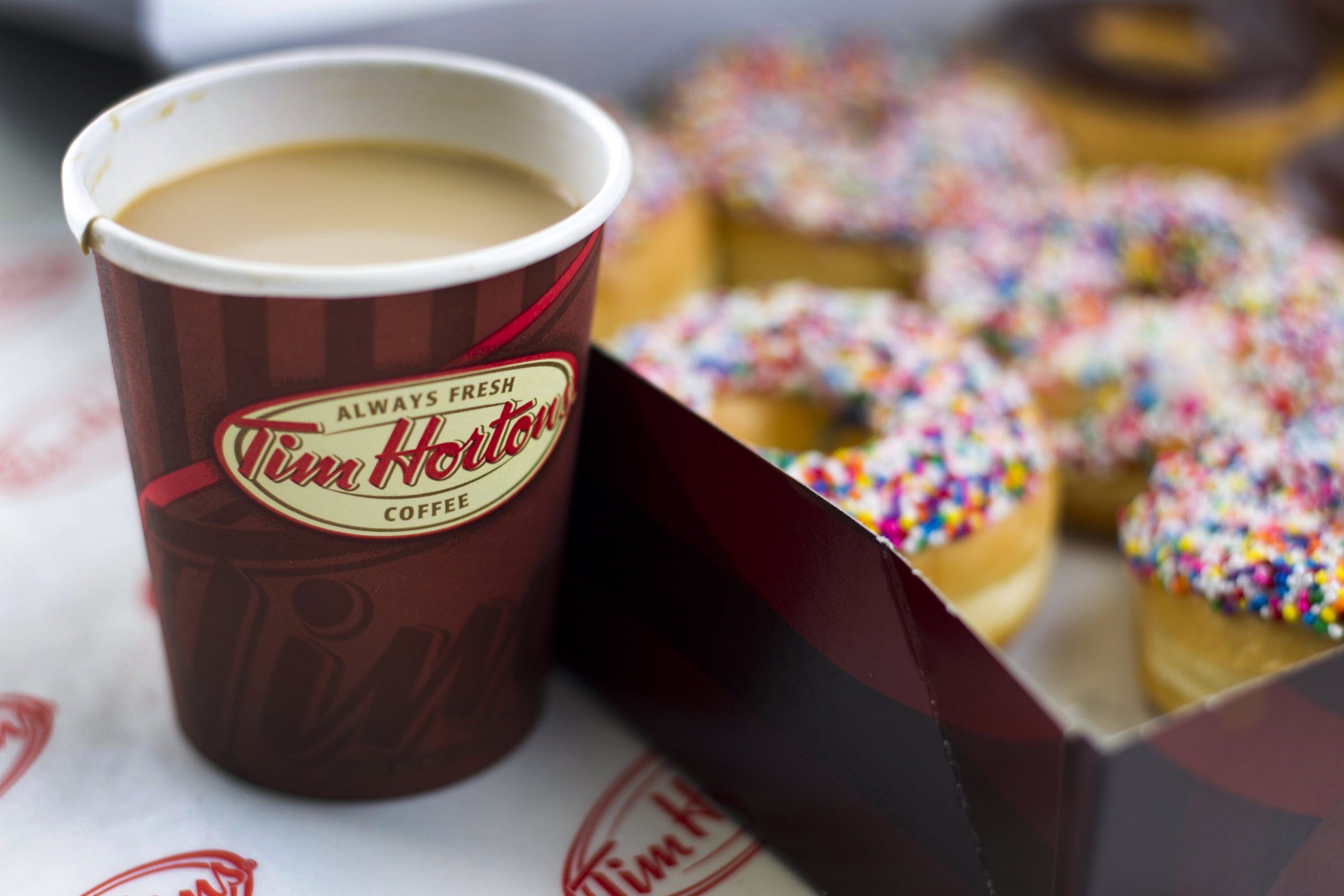 A cup of Tim Hortons Inc. coffee and doughnuts are arranged for a photograph in Toronto, Ontario, Canada, on Wednesday, Aug. 3, 2011. BRENT LEWIN/BLOOMBERG
Twelve major companies — including the multinational that owns Tim Hortons — have been added to the toxic chemical "Hall of Shame" for failing to adequately address some of the harmful substances found in their products.
RBI's entry comes courtesy of this year's instalment of Who's Minding the Store? A Report Card on Retailer Actions to Eliminate Toxic Chemicals , a report compiled by a group of non-profits and environmental advocacy organizations. The group handed out 12 failing grades to popular brands it says are not carrying their weight toward a safer future. The list includes Restaurant Brands International (RBI) — the owners of Tim Hortons, Burger King and Popeyes — as well as Sobeys and Metro, two of the three largest Canadian food retailers.
Starbucks, Subway, 7-Eleven, Sally Beauty, Publix, Nordstrom, Ace Hardware and 99 Cents Only Stores also made the toxic list, as did Alimentation Couche-Tard, the operator of thousands of convenience stores in Canada, the U.S. and a host of other countries.
According to Mike Schade, the report's co-author and campaign director for Mind the Store, it isn't easy to fail this test. "We score companies on a curve," he said, according to CNN . "All a company has to do to break out of an F is to get more than 15 points and companies can earn up to 164 possible points. For example, Nordstrom earned 13 points while Target earned 105 points."
The campaign, now in its fifth year, graded 50 retail chains — accounting for more than 200,000 stores — on efforts made to reduce the presence of dangerous chemicals in their consumer products. The scoring system compiles the impact of 13 possible corporate actions, such as public commitments made by a company, efforts undertaken to hold suppliers accountable and steps taken to reduce the use of chemicals of concern over the past three years.
A recent study found an 'alarming' number of chemicals are circulating inside humans, including 55 that had not been reported before and 42 that couldn't even be identified. While several studies have found causal links between perfluorooctanoic substances (PFAS) — sometimes referred to as "forever chemicals" — and cancer, according to the CBC , no definitive link has been proven. PFAS exposure has also been associated with liver damage, endocrine disruption and immune disorders.
Another study concluded as many as 98.5 per cent of Canadians may have such compounds inside of them. Commonly used in non-stick cookware and waterproof fabrics, PFAS are stable, durable chemicals that accumulate more quickly than the body can remove them.
Ten of the companies in the Toxic Hall of Shame are repeat offenders while four of them — Metro, Publix, Sally Beauty and 99 Cents Only Stores — did not earn any points for public actions toward safer policies, according to the report. "There may be cases where companies are not publicly disclosing progress, which is why we send them their draft scores in advance to give them an opportunity to respond to our findings and be more transparent," Schade said.
"This year we gave companies about two months to review and respond to their draft scores. We reached out to every retailer multiple times. We also delayed the grading process given the pandemic, to give companies additional time this year to make progress."
RBI, one of only two companies that responded to a failing grade, told CNN that its current guidelines require "all approved plastic toys and promotional drink wear not contain bisphenol A ("BPAs"), and prohibit the use of perfluorooctanoic acid ("PFOAs") within our approved paper and packaging products."
"We have very specific guidelines around the approved products that are used in our restaurants in order to ensure food safety. In the United States, this means ensuring our product and packaging specifications are compliant with FDA standards."
When it comes to PFOAs, Schade said RBI does "not even go beyond regulatory compliance, as FDA already revoked the use of this chemical in food packaging. They are just saying they comply with the law," he said. "The US Food and Drug Administration (FDA) and several states banned BPA in some infant and children's products many years ago, but Burger King did not disclose action on BPA until fall 2019, which we acknowledged last year."
There was also plenty of positive news in the report, Schade said, including that 70 per cent of the companies involved have better scores now than the year they received their first grade. Six retailers garnered an A- or higher and Apple and Target both received an A+ for their efforts. Several others, including McDonald's, have pledged to completely remove the presence of PFAS by 2025. "As the largest fast food chain in the world, actions by McDonald's could change the entire industry as suppliers scramble to meet new requirements," Schade said.

And though there are many valid reasons for corporations to reduce reliance on toxic chemicals — including the ever-present threat of federal regulation — the collective power of the customers is a driving force companies would be foolish to ignore, Schade said. "Consumers today want to know that the products that they buy for their families are safe and healthy," he said. "We've had meetings with some of these companies like Burger King and Starbucks, and some of the other companies just blow us off, ignore us and hope we'll just go away.
"We're not going anywhere, and the consumers that are demanding safer and more sustainable products, they're not going away either. So that's why we're calling on these dozen companies to 'Mind the Store' and get their act together."
Dave Yasvinski is a writer with   Healthing.ca
https://www.healthing.ca/wellness/tim-hortons-enters-hall-of-shame-for-chemical-use
******************************************************************************
Poison coffee in university machine
CBC News · Posted: Jun 01, 2000 6:36 PM EDT | Last Updated: June 1, 2000
Police are still investigating why more than two dozen people at Laval University were poisoned with arsenic.
Investigators have determined coffee in a faculty vending machine was deliberately laced with the poison.
All 27 people who were poisoned with arsenic drank coffee from the same vending machine. No one suffered life-threatening injuries, though arsenic is lethal in high doses.
The machine was located in the department of animal and food sciences.
Dr. Janice Bailey, a professor in that department, says the incident has sent fear through the faculty.
"This is terrifying to think about arsenic being a carcinogen, and the health implication of this, what if someone had been pregnant, what if someone is pregnant?," she asks.
Bailey says she can't imagine anyone on the inside trying to poison faculty members, but she fears she and her colleagues could have been the target of a radical animal rights group.
"People think that we're abusing the animals, or creating Frankenstein-like food products," Bailey says.
Police are still looking for a motive. So far, investigators haven't drawn any conclusions, and they have no suspects.
Facts about arsenic
Arsenic is found in nature at low levels. It's mostly in compounds with oxygen, chlorine, and sulfur. These are called inorganic arsenic compounds. Arsenic in plants and animals combines with carbon and hydrogen. This is called organic arsenic. Organic arsenic is usually less harmful than inorganic arsenic.Most arsenic compounds have no smell or special taste.Inorganic arsenic compounds are mainly used to preserve wood. They are also used to make insecticides and weed killers. You can check the labels of treated wood and insecticides to see if they contain arsenic.
Copper and lead ores contain small amounts of arsenic.
https://www.cbc.ca/news/canada/poison-coffee-in-university-machine-1.228626
*************************************************************
For first time, Tim Hortons releases line of products low in radium
JULY 25, 2016 by ALEXANDER SAXTON ( @ )
MISSISSAUGA, ON – Breaking with tradition after more than half a century, Tim Hortons has released a line of products containing only a pretty good amount of radium.
"Today's consumer is trying to be more conscious about the amount of deadly radiation they consume on a day-to-day basis," said Tim Hortons executive Larry Orff. "That's why we're proud to give our customers the option to choose both irradiated and semi-irradiated foodthings."
While health experts say that regular consumption of ordinary menu items is 'tantamount to a personal Nagasaki', Tim Hortons maintains that options like the iced cap (radioactive) and red velvet cupcake (very radioactive) are 'sometimes foods', and that their customers are informed and intelligent enough not to eat them more than the Health Canada-recommended 'zero' times.
"Obviously it's a bad idea to eat a lot of doughnuts, regardless of whether or not those doughnuts have the power to render a water source undrinkable for ten thousand years or more," Orff said. "But sometimes you want a treat, and customers deserve the right to treat themselves to something sweet and slightly glowing now and again."
Health experts have been cautious in their response to the health initiative.
"Obviously it's wonderful that Tim Hortons is trying to reduce the amount of radium its customers are eating," said Health Canada's Rhonda Osmanoglu. "Our worry is that they're just going to replace the radium by artificially adding an increased amount of arsenic and loose nails."
While Orff conceded that this was the case, he pointed to several recent health studies saying the effects of arsenic and loose nails on the human body were negligible in comparison to massive, massive, appalling doses of radiation.
At press time, rival coffee chain Eddy Shack's had exploited the new niche in the marketplace by offering a series of menu items containing even more radium, as well as fattening uranium and polonium.SEE MORE:HEALTH CANADA, TIM HORTONS